If you are unable to view this message, see it online
here.

If you have experience using one of the many items avaible from Mini Mania, why not take a moment and review those products for the benefit of your fellow enthusiasts? For a limited time, those of you who write a review can receive a special discount! Read all about it in this article.
Featured Items:
---
Feather-Light Flywheel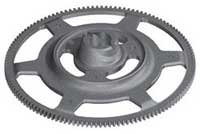 EN24 Steel, "Feather-light" 6 pound Mini Flywheel with integral ring gear (suits race starter). This is no ordinary "Ultra-light" flywheel. Not only is this masterpiece lighter than the KAD aluminum one, it is much stronger and is designed for long life. An added feature of the design and construction is the strengthening in the tapered section that makes it far easier to remove from the crankshaft. Original stock factory flywheel weighs about 16.5 pounds. With over 10 pounds savings in rotational weight, this flywheel provides the equivalent of taking about 250 pounds out of the total weight of the car, resulting in fantastic acceleration gains.
Improve your acceleration today!
Mini Mania Motors
Built by the experts at Mini Mania.
1380cc



The "Ultimate Street Performance Engine" from Mini Mania is the result of 30+ years of building and racing our own Mini Coopers.
Get yours today!
1275cc

The rebored 1275cc motor includes high compression (9.75:1) performance pistons, a Lomgman cylinder head and a fast road camshaft (276 degrees duration).
Get yours today!
1380cc

We sell these engines ready to bolt in and run, which means, of course, that they are already mated with transmissions..
Get yours today!
Popular Items:
---
Mini Cooper Workshop Manual

The Haynes series of manuals are the best manuals for general maintenance as well as for major repairs and overhauls. Everything is covered from checking the oil to rebuilding the engine. No Mini owner should be without one.
Get your copy now!
LED Replacement Tail Lights

Here is a simple way to brighten your tail lights and improve safety. Our LED tail light bulb conversion kit dramatically improves visibility from the rear, day and night. LED 'bulbs' are ultra-long lasting and durable - you may never need to replace your tail lights again! Sold per pair.
Upgrade those dim tailights today!
Pertronix Ignitor

"Fixed Point" electronic ignition conversion. The two best features of the new Pertronix Ignitor electronic ignition conversion kit are the low price and the fact that it fits entirely inside your stock distributor cap!
Upgrade your ignitor!
Gas Prices Got You Down?
---
Improving Your Mini Cooper Gas Mileage
Most engines (and all Minis) use an electric spark to start the burning of the fuel/air mixture which in turn powers the car. If the engine is to run properly this 'electric spark' must happen at the exact right time. Setting your timing means you adjusting the time the plug fires relative to the position of the piston.
Continue reading...
Spark Plugs Overview
This guide was designed to assist the technician, hobbyist, or race mechanic in understanding, using, and troubleshooting spark plugs. The information contained in this guide applies to all types of internal combustion engines: two stroke engines, rotary engines, high performance/racing engines and street vehicles.
Continue reading...
Remanufactured Stock Distributors

Remanufactured stock distributors are good as new at half the price. As a distibutor wears out the control of ignition timing is increasingly difficult. While it is an easy project to replace the points and condensor, the distributor shaft and bushings that is worn will result in poor running, lower gas mileage and could even cause hard starting.
Replace your worn out distributor now!
Popular Articles:
---
Engines from Mini Mania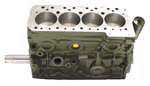 This article is by far our number one most popular classic mini article with over 113,000 hits! If you can dream it, we can build it!
Continue reading...
Putting a Honda VTEC engine in a standard roundnose Mini
If you have decided that your Mini needs a more powerful, more reliable engine than the venerable A-series , and have decided that a Honda VTEC engine is the way to go, this swap guide will provide you with some guidance and suggestions to address some of the many challenges and decisions you will face.
Continue reading...
How to ID your Mini!
This useful interactive tool will help you figure out once and for all what model your mini really is!!!
Continue reading...
Other Interesting Stuff:
---
Earn a Commission!

Place a Mini Mania banner and link on your home page, and earn a 5% commission on all on-line sales made through your website. No set-up fees, minimum sales levels or other hidden charges; you'll receive a check every six months. This is an excellent opportunity for Mini clubs to raise money for the treasury, or for Mini dealers to get added income with very little effort and no overhead costs.
What are you waiting for? Start earning some extra cash today!
Want to pay with Paypal? No Problem!
We now accept Paypal as an alternative form of payment. Because many of you have Paypal accounts and like the ease of use that Paypal provides, we want to help you out by offering Paypal payment option at MiniMania.com!
Go ahead, spend that Paypal cash!
Map you and your Mini with Frappr!
Map yourself today!
---
Don't miss any of your Mini Mania email. Add
news@minimania.com
to your address book!
---
To unsubscribe,
Click Here and change your Mailing List Options.
Or simply reply to this email with only the word "remove" in the subject line.
Copyright © 2008 Mini Mania, Inc. 870 Gold Flat Road, Nevada City, California, USA All rights reserved.