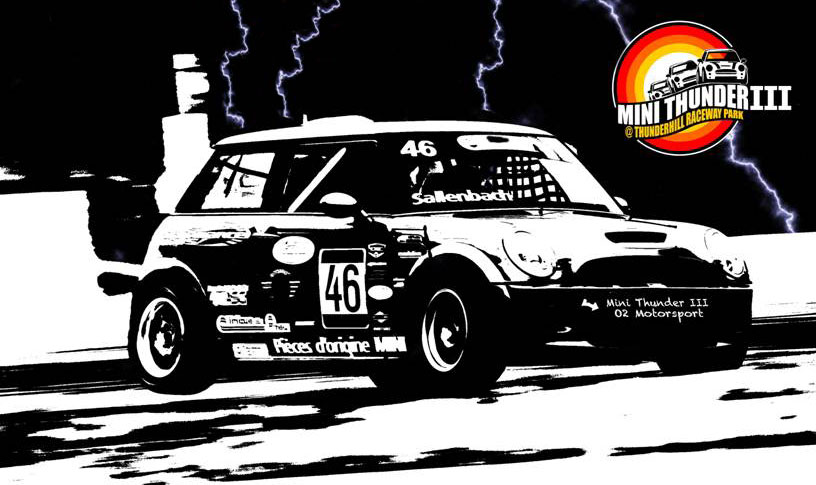 Looking for the perfect gift for that Mini Enthusiast in your life?
Make it easy and get them something you know they really want!
Treat them to a registration to: Stormin' Norman's MINI Thunder III at Thunderhill Raceway, Feb 19, 2012.
It's easy just click here:
http://www.motorsportreg.com/index.cfm/event/event.advert/uidEvent/77E2323D-E465-7884-2DE30A3AC91FFD9E
No waiting in longs lines, no searching for parking spots, no people cutting in front, no "sorry we are out of stock", you can order this while you sit in front of your computer in your jammies. While you are at it, why not treat yourself as well J.

This is one gift that is easy to accessorize. You can get driving gloves, new tires, brake pads, helmet, a "Jan" Tune, Dyno……the ideas are endless.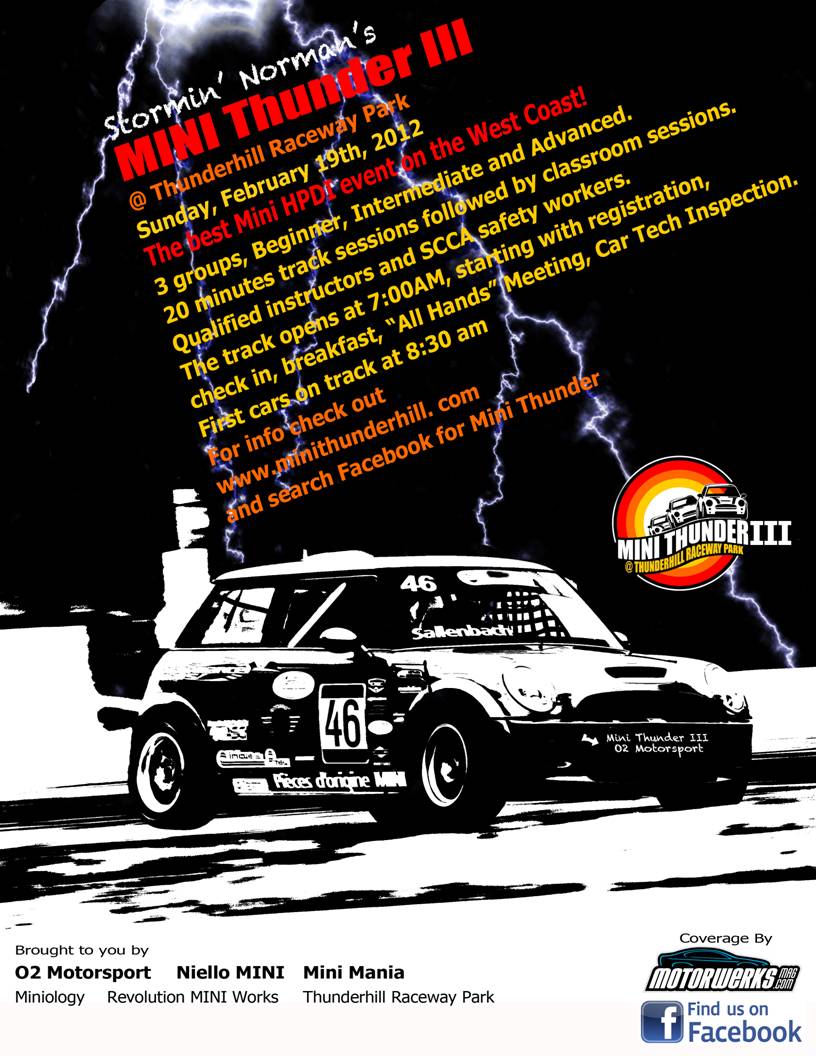 Vendors included:
Thunderhill Catering Grill

Revolution Motor Works

MCE Dyno Services

Vinyl Styles

Casino Party People

SlicART Custom Apparel

Hooked on Driving

Group4Autosport

GotBlueMilk Motorsports Photography

Rock Auto

Racine-Web Design

Craven Speed

Ad 3 Graphics

MotorsportReg.com

Defenders of Speed

San Francisco Region – SCCA

Bavarian Auto
We expect a good turnout of MINI/Mini spectators, many as clubs so we will be setting aside areas for Club Corrals. If you plan to join your club corral, please tell them at the gate so they can direct you to the proper locations. Please tell your MINI/Mini freinds to come out and enjoy the day.

Registration will be held inside the clubhouse (tower) on the first floor.

Overnite RV Parking is available for Saturday Night.
Bathroom and Shower facilities are available near the clubhouse.
No entry to the track after hours - 7;00PM to 7:00AM
No fires
No black or grey water dumping
No excess noise
Propane service is available at the south end of the paddock.
(Go to the food service or pro shop)

Skid Pad is OFF limits – Please do not use this area
Please clean up your area at the end of the day. We are responsible for all damage and cleanup.


Forms of payment at Thunderhill

Saturday Night Dinner & No Host beverage Service
Dinner will be Prime Rib or Tilapia with all the trimmings, appetizers and desert
Beverage Service will be beer, wine, and wine Margaritas, sodas, water (no hard liquor)
Dinner & Beverage Service is being provided by Thunderhill Grill directly (not through MINI Thunder)
Payment: Cash only

Casino Nite – Free to participants –
If you desire to purchase extra MINI Thunder Dollar$ that will be cash $10 for $500
These proceeds go to the Kamila Marie Sandoval Fund

Sunday Breakfast:
Provided by Thunderhill Grill
Cash Only

Helmet Rentals - $35 for the day cash, credit card, check
Helmets are available for rent through Thunderhill Raceway.
You will need a SA2000 or newer helmet. SA = Automotive.. NOT SM = Motorcycle
ProShop/Souvenir – cash, check or credit card

Gas Pumps:
High Octane and Race Fuel is available 24 hours/day at Thunderhill.
Mastercard, American Express, and Visa Credit Cards
Gas Pumps are located inside the front gate to the right as you enter the track.

MINI Thunder III
T-Shirts – best way to purchase is part of the package through Motorsportreg.com
T-Shirts will be available while supplies last – cash or check $20 ea for S,M,L,XL
2XL 3XL are $22 ea.
Buffet Lunch – most will be through your initial registration, extras please purchased at registration for $20. You will need a lunch ticket to get lunch.
Water will be provided to participants throughout the day – free of charge
Payment of all MINI Thunder items is cash or check. We are not setup for credit cards.

Also Thunderhill Grill will be open for lunch and can be purchased separately

There is an ATM machine located inside the Thunderhill Club House.


Schedule:

Hook on Driving is holding their event on Saturday.
They will end at approximately 5:00PM we will need about an hour to get setup for dinner and registration.
Saturday Night:
5:45PM - Pre-registration in the clubhouse
6:00PM - No-host beverage service.
6:15PM -Dinner
7:00–9:30PM - Casino night to follow starting
We will be auctioning off prizes starting at about 8:00PM

Sunday:
The schedule has been published and can be viewed at: http://www.minithunderhill.com/Schedule.cfm
Gates open at 7:00AM
Registration will open shortly thereafter.
Be sure to get all of your tickets and wristbands then. Guest lunches, T-shirts

Both O2 Motorsports and Niello MINI are offering free pre-tech inspections at their shops.
Call for appointments:
O2 Motorsports 530-243-2002
865 Twin View Blvd. Redding CA
Niello MINI 916-483-6464
2020 Fulton Ave. Sacramento, CA


Many of you have indicated you wish to have your Minis dyno tested.
This service is available at MCE Racing – Call to set up appt. Kevin at 530-934-3237
Also Jan Breuggman of Revolution MINI Works will be on-hand doing his Mini Tunes.
Please make reservations through Kevin at MCE but I also recommend that you contact Jan to discuss this so that he can be prepared and have the right parts as necessary Call Jan @ 949-456-9590
Related Articles