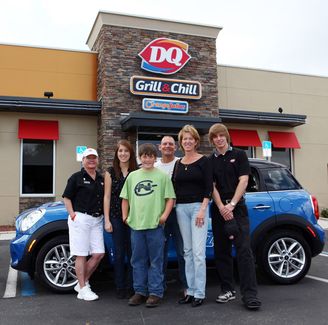 MANATEE, FL - Dairy Queen has come to mean a lot to Melissa Messinger.

The Sarasota resident got her first job 22 years ago as a 16-year-old at Dairy Queen.

Then she met the man who would be her husband there two years later.

And just a few weeks ago, she received a real Dairy Queen treat -- a blue 2011 Mini Cooper.

Her recent odyssey began when she and family members went to the Dairy Queen Grill and Chill on State Road 70 to celebrate her 17-year-old daughter's birthday.

The group was ordering drinks and meals and Messinger asked for a mini blizzard, not realizing that Dairy Queen was doing a special promotion and offering a special treat with each mini blizzard ordered.

But instead of the bouquet of flowers, gift cards or T-shirt most people received, Messinger was given a set of car keys.

"When he handed me the mini blizzard the guy first said, 'Isn't it great but wouldn't you like something better?' " she said. "Then he handed me a gift card and said 'Wouldn't you like something even better?' I could see a guy with a camera in the background when he handed me the remote control for a small Mini Cooper," Messinger said. "Then he pulled out the keys to a brand new car."

She thought, is this really happening, is this for real?

Tracy Hirshauer, owner of the Dairy Queen franchise along with another in Sarasota and one in Bradenton, thinks Messinger's car win was meant to be because of her past connections with Dairy Queen.

"It was an amazing experience," Hirshauer said. "I'm very happy our store was one of the locations chosen."

Two other Mini Coopers were given away in the Tampa Bay area -- one in Oldsmar and one in Brooksville, said Maria Pierson, spokeswoman for American Dairy Queen.

It's all part of the kickoff of a campaign to promote Dairy Queen's use of social media in its marketing efforts, she said.

An online video contest on Facebook will result in six more Mini Coopers being given away with web viewers casting votes for their favorite. On May 4, the 24 finalists will be announced with a final six winners selected as the top vote getters.

Messinger still has to pinch herself when she thinks that she walked in asking for ice cream and came away a new car owner.

She is waiting on the title of the car and right now plans to sell it and use the money to help her daughter buy a more practical first car and pay some bills.

Messinger, who works at the Crab and Fin restaurant on St. Armands Circle along with having a vending machine route, knows the money will be put to good use.

"I'm sure I'll find something to do with it," she said with a laugh.