The story of a MINI Cooper 'Truck' from a friend of ours!
"Hi, Again, Don:

This is the Mini with the stuff piled outside. And the story is:
Grace was driving the Mini to San Luis Obispo to visit her parents when the engine went dead in Lathrop, outside of Fresno. I went to rescue her with our Subaru station wagon. When I got there, all I had to do was to unhooked the Unichip to get the Mini going again. So, Grace takes the Subaru, and I take the Mini. Grace has a successful trip, and I have no more problems with the Mini. HOWEVER:

I had promised to bring a load of my tools and equipment to a bus stop kiosk construction project that I am part of for Leadership Auburn. Grace was in SLO with the Subaru, and I had the Mini. To solve this transportation challenge, I laid out all of the equipment that I needed and pondered. After just a short while, I was able to stuff most of the equipment that I needed into the Mini. The only equipment that I could not load was a second ladder or mortar tub, as I did not have a roof rack. The Mini as a truck was a success. Now all I have to do is do a thoroughly clean up of the Mini . . . eventually.
Regards,
Tom"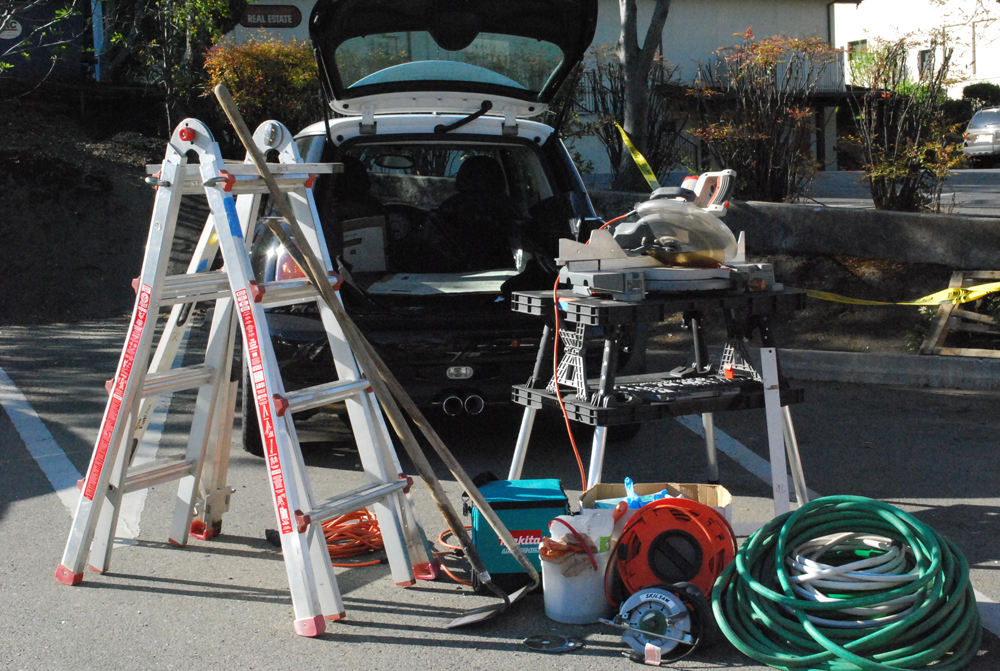 All loaded and ready to go!