GET READY TO GO

Mini Mania's OVER THE TOP Department is dedicated to searching the world to bring you the best, the most eye-catching, and totally unique products for your MINI Cooper and Cooper S.
As you might expect, these modifications won't be found on MINIs on every streetcorner. Which will make your MINI stand out of the crowd!
OVER THE TOP items are generally available by special order only. Click on the Item Number links for order lead time, pricing, and any specials we may be offering.
Mini Mania will be adding new products to the OVER THE TOP Department on a regular basis; bookmark this page and visit us again soon!

---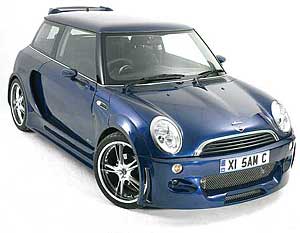 MINOTAUR Fiberglass Body Kit
If the carbon fiber version is too rich for your blood, you can still have the same killer style at a price within reach of mere mortals. The 'Power Bulge' shown above is available in fiberglass for the Cooper S; rear spoiler is also available separately.
NMX2040 Fiberglass body kit from Minotaur (does not include Power Bulge or spoiler)
NMX2042 Power Bulge in fiberglass
NMX2043 Rear Spoiler in fiberglass

---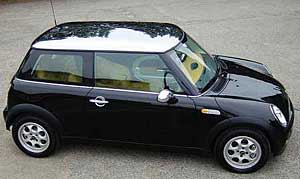 The CHROME ROOF
The Chrome Roof -- enough said! This beautifully crafted roof overlay from Italy will turn heads at any speed.