Visit www.minimania.jp
to order!
Mini Mania is pleased to announce its entry into the Japanese market through an association with Nicole Racing Japan Co., Ltd. Nicole Racing is a well known automotive business in Japan, best known for its development of the Alpina brand in Japan. It has long served as a BMW aftermarket distributor, and the expansion of the line to the new BMW-built MINI was a logical and anticipated devleopment.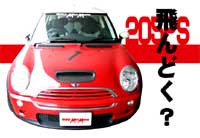 "We are very pleased to make this announcement," said Mini Mania president, Don Racine. "The Nicole Group has shown that they possess the leadership qualities that will make this association a mutually rewarding success. The Japanese market represents a potent opportunity for both the MINI as well as the Mini Mania brand, and we look forward to bringing the best in performance parts to an enthusiastic Japanese consumer market."
Japan is a hotbed for aftermarket performance parts. The MINI is an ideal vehicle to satisfy the demands of the enthusiast owner, and Mini Mania expects Japanese consumers will welcome the availability of Mini Mania performance parts for the growing MINI market.
Nicole Racing has launched a website promoting Mini Mania brand performance parts, at www.minimania.jp.