The Mini Mania rebuilding service will tackle almost any problem you are having! We specialize in Cylinder Heads, Transmission and Engines. General installation and maintenance service also available!

We can either rebuild your old unit or supply a complete assembly.

While parts availability for our favorite classic Minis continue to be reasonable, major components such as cylinder heads, transmissions and engine blocks are no longer being manufactured anyplace in the world.

We offer a wide range of service from a simple 'valve job' or 'synchro replacements' to complete rebuilding.
We also have a very wide range of cores if your old units is unserviceable!

Call: 1-800-946-2642
If you can DREAM it, we can BUILD it!
---
Examples of Service:
NO-CORE Re-built Cylinder Head

Re-manufactured cylinder head has been set up for unleaded fuel. New valve guides and seats and ready to install on your 1275cc engine!
Buy it now
NO-CORE Rebuilt 1380 shortblock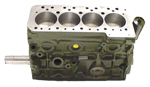 Big bore block, crank, rods and pistons. 1380 assembled shortblock consists of A-Plus block and crank machined to 73.5mm and assembled with pistons, rod bolts, bearings, and our special camshaft. We've done the hard work, you can do the final assembly with your favorite head,transmission, and ancilleries.
Buy it now
NO-CORE Rebuilt Transmisssion

Rebuilt gearbox. The 'rod change' gearbox was the final and best design for use with the Mini. The rod-change transmission was used in almost all Minis manufactured after January 1973. Our rebuilt gearboxes have all new bearing and synchros & include the 3.44 differential.
We also offer a easy to use kit that allows this great design to be used in place of the standard 'remote style' transmission as found in all the MK1 and 2 Minis (see part number MMKT0803)
So, if you're in need of any services for your A-series Engine don't let a shop take forever with your parts and service!
Let Mini Mania get you, and your Car, back on the road Quickly!
Get the right parts, from the right people, the first time.
Mini Mania Inc.
www.minimania.com
870 Gold Flat Road
Nevada City, CA 95959-3200 USA

Telephone: 530-470-8300
Toll Free Order Line: 800-94MANIA
Toll Free Fax: 800-MANIA01
Fax: 530-470-8388

Phone Hours: Monday-Friday, 6:00AM to 5:00PM
On-Line Orders Open 24 hours, 7 days per week