Discovered in a damp Yorkshire lockup, the pre-production MG Midget was an amazing find. New owner Mark Boldry explains:

'Originally I was told the car was the first of the production Midgets, because of the GAN 101 chassis number. Subsequent discussions with Dennis Warf, the MG Car Club Midget Register's historian, and Don Hayter, have confirmed that it is in fact the first of the pre-production cars.'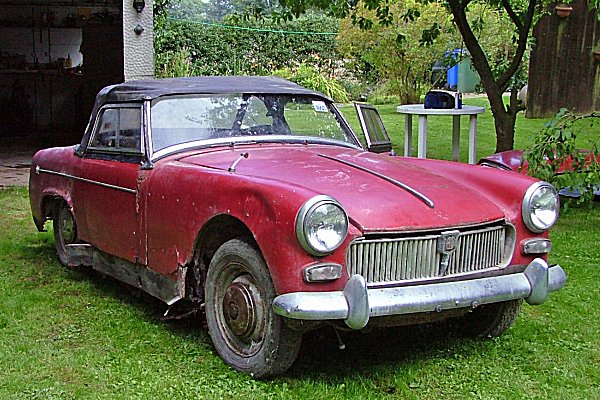 'I was tipped off by Gary Lazarus, the editor of 'Mascot' (The Midget and Sprite Club magazine) that this amazing car was in the Yorkshire area. After more than 20-years of storage in a damp garage, the car had deteriorated to the point you can see in the pictures.'

'The heritage certificate lists the car as a development car, and dates it at 17 August, 1960. I love the purity of the lines on these early Sprites and Midgets, although this one is going to be a mammoth restoration. For one thing, the floors are absolutely rotten. That in itself is not a major problem, but the restoration will be further complicated by my determination to keep as much of the original car as possible.'

'There are lots of tiny details that are unique to this car. It was built on a Frogeye floor and inner body, and there was a lot of fettling of the outer panels. I am realistic enough to know that I will have to buy some new panels, but at the moment I am concentrating on the research.'

'It is going to be an interesting and challenging project. I'd like to get it done by 2011, in time for the Midget's 50th anniversary. It will be expensive though, so I will have to sacrifice some of my Frogeye fleet to afford it.'

Mark will be running a Blog, featuring any progress or updates on this very special car. You can follow the car's progress at www.drymar.co.uk

Read the full story in the next issue of MG Enthusiast Magazine.

Date: 2009-04-29