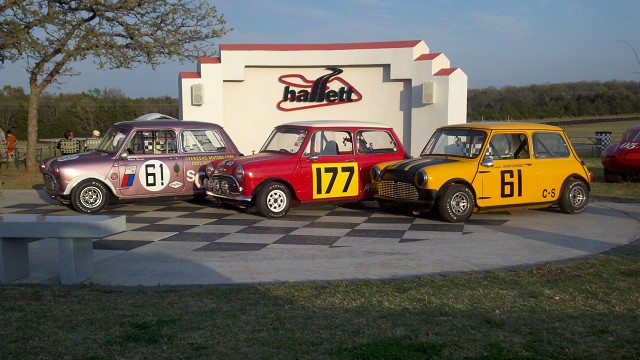 Vintage racing a Mini Cooper at Hallett Raceway
Vintage racing a Mini Cooper is a hit, racing with old friends makes it a double, racing at Hallett raceway for the first time makes it a triple, and being a guest of the Corinthian Vintage Auto Racing group made it a home run! Almost too good to be true! And I don't even play baseball! *yerrrr safe!*
It was on a casual note that a new/old friend of ours, Robert Hoemke asked after spending some time with us during the Monterey Historics ask if we would consider bringi
ng a couple of our Minis to one of his local events. Robert races a number of different cars but of course he also does a fantastic job in the Historic "Purple People Eater" Mini Cooper of Richard McDaniels. Richard won both AARC and Trans-am races back in the '60s in this car.
So with too little thought, we said yes. It was just a matter of when and where. The choices from a timing stand point were between Eagles canyon in Texas or Hallett in Oklahoma. Once it was found that Robert's Mini as well as both the yellow and red Mini's of our were accepted for the Wine Country Classic in Sonoma, the decision was clear- Hallett it would be!
For over 30 years, Hallett Motor Racing Circuit has played host to Auto Racing, Motorcycles and High Speed Go Karts. Organizations that run at Hallett include:
o Competition Motor sports Association (COMMA)
o Sports Car Club of America (SCCA)
o Central Motorcycle Riders Association
o Local Porsche, Shelby, Alfa Romeo, Corvette, BMW, Viper and Ferrari clubs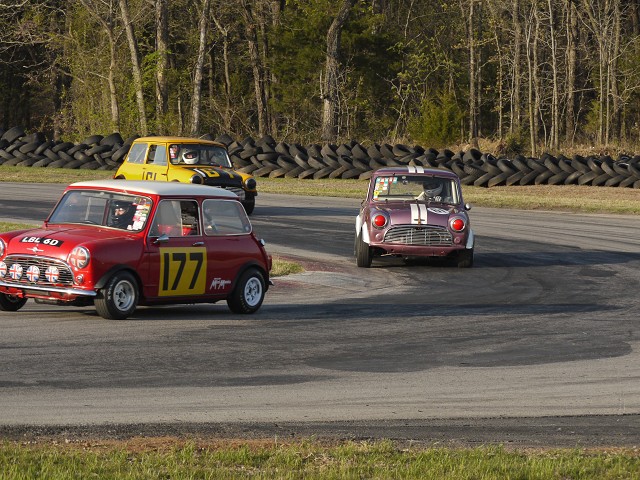 The Corinthian Vintage Racing group appears to be the ultimate extended family. I have been vintage racing for 30+ years and this is how I can remember it was in the beginning, everyone knows everyone, everyone helps everyone and everyone enjoys the whole experience.
Related Articles:
Doing Hallett Raceway backwards in a Mini Cooper
A letter from Corinthian Vintage Auto Racing