iPod Dock holds and connects your iPod
Connect and remotely control your iPod via its dock connector while keeping it out of harms way just about anywhere!
Now in stock for immediate shipment, the new docking iPod holder secures and connects your Apple iPod just about anywhere.
In your car, the dock will protect your iPod from being bounced around and keep it secure and out of sight. Just connect the cable from the iPod interface cable to the back of the iPod dock, insert the adapter sleeve for your iPod model, slide your iPod in and you're ready to "Dock n' Roll".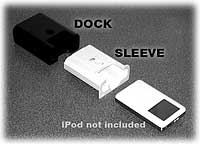 The iPod dock was developed for use within your car's glovebox, where the iPod is controlled remotely, but we've found them a great way to connect and remotely control your iPod via its dock connector, just about anywhere.
The iPod dock can be used to secure your iPod in many other applications. Use your imagination. The iPod dock can be used anywhere you use a docking cable to connect and control your iPod. Use it in another car, inside your motorcycle's fairing, in your stereo cabinet, or under your desk...
Are you a mulit-iPod family? The various iPod adapters just snap into the dock, making it easy to change between iPod models. Eight sleeves are available for the iPod Dock, including:
iPod Mini 4GB & 6GB

3G: 10, 15 & 20GB

3G: 30 & 40GB

4G/20GB (U2), 5G/30GB Video w/Color Display

4G/40GB, 5G/60GB Video

5G/40 & 60GB Photo w/Color Display

Nano 1, 2 & 4GB

4G/20GB Color, 30GB Photo
The iPod Dock comes with the sleeve of your choice and includes a mounting template. It can be surface mounted to a flat surface by three small screws. Access to the back of the mounting surface is required to insert the screws. You'll need a suitable drill with 1/8" bit and phillips screwdriver for screw mounting. Alternately, the dock can be mounted with velcro or trim tape (you supply).
Order the NMK2241 iPod dock with adapter appropriate for your iPod.
For additional sleeves, see NMI4420.