iRide™ docking system for iPod - BMW MINI Cooper & S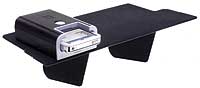 Combine the utility of a Glove Box Organizer with the convenience and safety of a dedicated iPod® dock in your glovebox!
Now in stock for immediate shipment, the new iRide ™ dock secures and connects your Apple iPod in your docking iPod-enabled MINI's glovebox.
Now you have a convenient way to secure your iPod® in your automobile with the new iRide(TM) docking system for iPod from Autorganizers and TEN Technology. Many car owners have integrated their iPod into the factory stereo but leave the iPod itself just dangling or, worse yet, thrown into the glove box.
Now in tandem with the Autorganizers Glove Box Organizer....which comes predrilled for the iRide Dock.......you have a plug-in docking feature that makes transferring your iPod® from house to car easier than ever.
And they are available for every docking model iPod including the iPod nano. You spend a lot of time in your car - make your life easier. The iRide Dock comes with one sleeve for a particular iPod model(s).
Additional model sleeves available separately. iPod Not Included.
Eight sleeves are available for the iPod Dock, including:
iPod Mini 4GB & 6GB

3G: 10, 15 & 20GB

3G: 30 & 40GB

4G/20GB (U2), 5G/30GB Video w/Color Display

4G/40GB, 5G/60GB Video

5G/40 & 60GB Photo w/Color Display

Nano 1, 2 & 4GB

4G/20GB Color, 30GB Photo
Mini Mania offers every component you need to make your BMW MINI Cooper iPod-ready, including OEM wiring interface (in case it was't ordered with your car) and adapters for the various iPod Mini and Nano models.
How do I choose the correct items to configure my iRide? Easy!
Did your MINI come from the dealership with the optional iPod cable installed? If so, you will find the cable inside your glovebox. If not, you'll need to order and install one. Order our

NMI4405 iPod Interface Adapter Kit.

Before you do, download the

installation instructions

to be sure you or someone you know (or hire) can install it for you.

Choose the adapter appropriate for your iPod.

We make this easy by providing a dropdown menu to the right of the item description for the

NMK2201

series of iRide Organizers. Look at the list and select the option to fit your iPod. Click

Buy Now

to add the correct iRide into your shopping cart.

Will you want to be able to plug in more than one iPod Model? Order

additional iPod dock sleeves

by ordering from our

NMK4420

series of sleeves.
What if I already have a Glove Box organizer or my car isn't a MINI?
The iPod Dock is available separately and includes a mounting template. It is mounted to the Glove Box Organizer (or to some other flat surface) by three small screws. You'll need a suitable drill with 1/8" bit and phillips screwdriver for mounting. Alternately, the dock can be mounted with velcro or trim tape (you supply).

Order the

NMK2241

iPod dock with adapter appropriate for your iPod.

The iPod dock can be used to secure your iPod in many other applications. Use your imagination. The iPod dock can be used anywhere you use a cable to connect and remotely control your iPod. Use it in another car, inside your motorcycle's fairing, in your stereo cabinet, or under your desk...
iPod is a trademark of Apple Computer, Inc., registered in the US and other countries. iRide is a trademark of TEN Technology, Inc.