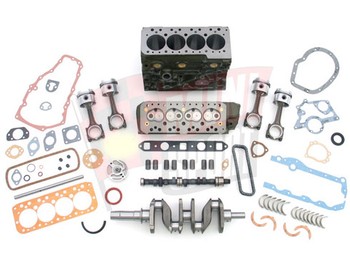 1275cc Cylinder Block
Carefully selected and high pressure chemically cleaned. Overbored & cross-hatch honed. Overbored and cross hatched honed to 73.5mm. Refaced. New cam bearings, core plugs and oil gallery plugs fitted. Painted & inspected.

1275cc Crankshaft
Carefully selected, crack tested and high pressure chemically cleaned. Reground and journals polished according to application. Dynamically balanced. (Stage 3 crankshafts are nitrocarburised heat treated) 1430cc:- restroked, reground to 84mm and nitrocarburised heat treated.

Shell Bearings
Top quality Vandervell shell bearings and thrust washers.

1275cc Con-Rods
Carefully matched set. Fully reconditioned and crack tested with new big end nuts and bolts where applicable. Sizes and alignment checked. Individually balanced.
1430cc:- uses reconditioned 1275 Cooper S conrods.

Pistons
Top quality AE pistons. Individually balanced and fitted to con-rods. 1430cc:- use Powermax 73.5 mm pistons

Camshaft and Followers
1430cc:- uses Kent 286 camshaft. All use new heavy duty followers.

Mini Sport 1275 Performance Cylinder Head
Stage 3:- head for 1293, 1400 & 1430 Stage 3 engines

Oil Pump
New high capacity type where applicable.

Flywheel
Fully balanced and lightened. (except A )

Gaskets
Complete gasket set for assembly.

Ancillaries
New rocker shaft, timing chain & tensioner, oil pressure release valve and spring. New alloy rocker cover and spin on filter head with filter (supplied on built engine). Vernier timing gear and chain set supplied where applicable.

Balancing
Crankshaft and flywheel assembly Dynamically Balanced. Con-rods and Pistons balanced individually.