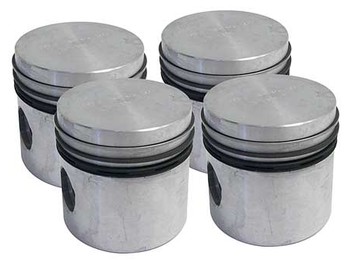 1275, flat-top pistons, +.060 When Omega quit making A-Series pistons, Mini Spares took it upon themselves to design and build a better Piston. These super high-quality squeeze-cast pistons are manufactured by AE and are available only from Mini Spares and their distributors.
Mini Mania stocks these pistons in conventional 1275 oversizes (+.020, +.040, +.060) in both flat-top (C-AJJ3382/size) or dish (C-AJJ3378/size) configuration, and in dished 73.5mm "big bore" configuration for 1380s (C-STR310). These pistons should prove to be bullet proof!
Desperately inconsistent supplies for protracted periods of performance Mini pistons caused Mini Spares Centre to develop the 'MEGA' piston range.
Recruiting the AE Hepolite Group for their unquestionable and renowned design and manufacturing expertise, the goal was to produce the most robust piston possible given reasonable cost and weight limits. Applying current technological advances incorporationg their very latest hi-spec AE109TF lightweight alloy and special double heat treatments, the result is an extremely durable piston that will withstand greater cylinder pressures at higher rpm than any other currently available.
To simplify the range, material has been concentrated around various problem areas - the ring lands and crown - providing one crown height which is 1.2mm thicker than other leading manufactures. This ensures sufficient material in critical areas to allow machining where long stroke cranks or longer con rods are used. This design guards against premature damage from poor/low quality modern fuels with the rings re-sited to minimise detonation damage in high compression engines. Thr ring dimensions are compatible, and therefore interchangable, with the Omega Mini piston range. Full circle skirts are used for maximum piston and ring stability. They also feature a specifically designed ridged finish on the side of the piston walls which helps retain oil, to protect against scuffing and galling at start up and cold running. A tapered gudgeon pin is employed to maximise stiffness against its lightweight.