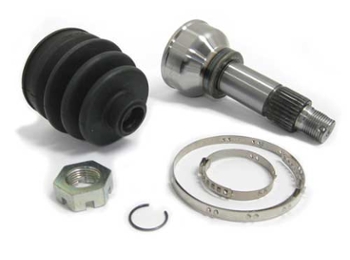 The CV joint in any front wheel drive car is critical, it drives the wheels and keeps the bearing together. In a Mini with disc brakes (7.5" or 8.4" rotors) the CV joint takes a real beating. While sound maintenance can make them last a long time, they will wear out. The most obvious way to determine the need is to listen for a clicking sound as you hold the steering wheel at full lock. In addition if you find a broken grease boot on the joint that appears to have been that way for some time- you can bet that the joint is also bad. Rebuilt CVs may be slightly cheaper, but the quality of the rebuilds we have tried are not worth it! Buy NEW ones! They fit all cars with Cooper S or larger disc brakes.
Note that the current generation of these CVs comes with a 34mm nut. Same threads as the old CVs, just a different sized nut. 1-5/16" socket will not fit. Too small. 1-3/8" appears to fit but is too big. Use only a proper 34mm socket or you may round the nut.
Regarding the torque setting for the main nut on the CV end, use 150 lb ft for those CV stub axles with two holes through them for the retaining cotter pin. The later types only had one hole through the axles. Use 190 lb ft.