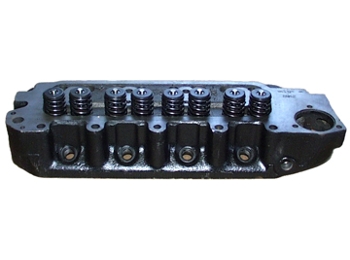 35.7 MM inlet valve and 29.5 mm exhaust valve suitable for road sports use. For pre 1992 vehicle with bypass hose (21.4cc)
This specification of cylinder head, based on used core castings, is modified to current fast road style to maximise fast road and track day/weekend-warrior performance when used with fast road and road/rally camshaft specifications. That means optimised BHP and torque out-put through port shape and dimensions and valve throat shapes developed on airflow bench and dyno/rolling roads to work with the aforementioned camshaft types, along with suitable compression ratios given modern lead-free fuel specifications. Genuine Rover copper-beryllium lead-free exhaust seat inserts are fitted. Latest specification manganese-bronze valve guides are used along with the latest specification plasma-nitrided EN214N stainless steel (35.7mm inlet and 29.5mm exhaust) and 220lb (nominal at maximum valve lift) double valve springs to give a cylinder head capable of withstanding a maximum continual peak rpm limit of 8,000rpm and 0.500" actual valve lift. Suitable for auto-testing, hill-climbs and track day use. Combustion chambers are set at an average 21.4cc since most engines these will be used for will already be using an elevated compression ratio (CR) through either smaller capacity dished pistons and/or larger bore capacities, and their efficiency will boost dynamic CR considerably. 9-stud fitting as standard.
This head has the heater take-off port open and a by-pass hose adapter fitted.