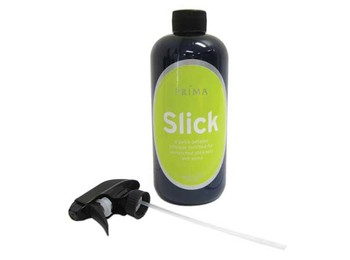 Find out why other MINI owners are switching to Prima Products!
Prima Slick is a polymer-fortified quick detailer that leaves paint with a warm glow and fantastic slickness.
The blend of polymers produce a shimmering wet-look shine while leaving an extremely slick finish. Mild cleaners lift grime, smudges and fingerprints. Its anti-static properties resist dust accumulation. Prima Slick is even an excellent glass cleaner. Slick is silicone-free and safe on paint, plastic, glass, metal, vinyl and rubber trim. Try Prima Slick on your eyeglasses for a surprisingly clear and bright finish.
See other Prima Car Care products and supplies.
Why Prima?
Prima Car Care is an exclusive line of car care products custom-tailored to the most demanding auto aficionado.
The formulas are unique. Great lengths were taken, and no expense spared, in order to create a family of products second to none. Thoughtful design even went into the packaging. The bottles are short and wide for a reason. A solid base and low center of gravity means you are less likely to tip over your glass cleaner as you reach for your QD. If we put this much thought into the package, image what we did with what goes into the bottle.