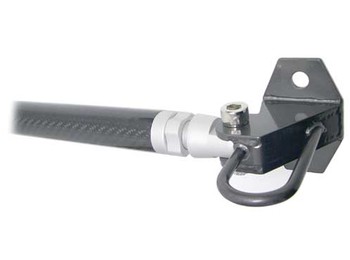 Rear Strut Brace- It is a well publicized fact that maintaining the chassis stiffness of any car will improve handling. Anytime you can do it cost-effectively and unobtrusively you are ahead of the game.
For 2002-2006 R50 MINI Cooper and R53 Cooper S Hatchback.
The rear of the MINI Cooper does not have as much horizontal stabilization as the front, and over time it can begin to flex. This rear stress bar allows you to apply a preload to the rear of the chassis of your MINI Cooper. This helps stabilize the rear of the car, keeping it from flexing under heavy stress, and helps maintain the MINI Coopers rear suspension geometry in the corners.

Easy installation with basic tools. Not for Cabrio models. Hartop models of the MINI only.
The rear strut brace can be installed without affecting the function of the rear seat backs. The strut bar includes special brackets that replace the factory brackets. Once installed, you can have your rear seat backs locked upright or flipped down. After installation, the strut bar can be removed without removing the brackets.