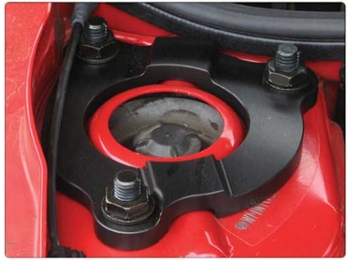 The combination of MINI's short suspension travel and the inadequate rigidity of the front suspension strut towers make the MINI susceptible to strut tower deformation (also known as 'mushrooming') when hitting severe potholes. These reinforcement plates add rigidity to the strut towers to minimize this deformation. If you live in an area where the roads are a little 'rough' - these are a must-have!
Avoid costly repairs from strut tower deformation in your MINI Cooper and Cooper S with the Strut Tower Reinforcment Plates (STRP). These plates are designed to strengthen the strut tower and prevent 'mushrooming' which can result from hitting large potholes or bottoming out the front suspension. Sold in pairs.
Fits:
2002-2006 R50 MINI Cooper and R53 Cooper S Hatchback
2005-2008 R52 MINI Cooper and S Convertibles
These Strut Tower Reinforcement plates includes 'stud extenders' to lengthen the studs from the guide plate. No worries that the studs are long enough!
When your strut tower 'mushrooms', the alignment is adversely affected and can cause handling problems as well as premature tire wear. This is a small investment to prevent future problems, especially if your roads are less than 'smooth'!
By sandwiching the sheet metal between the strut and the STRP's 1/2 inch thick aircraft aluminum plate, it is strengthened ten-fold. The STRP retains 1/2 inch thickness throughout ensuring that there are no weak spots. Installation is easy using the included instructions, it will take about 10 minutes to ensure that you do not have to go through a lengthy and expensive alignment repair.

MINI Cooper Strut Tower Brace Plate Installation Instructions
See NMS7301 MINI Cooper Under Strut Tower Plates for additional protection.
Note: This Strut reinforcement plate is not compatible with most Front Strut Tower Braces.