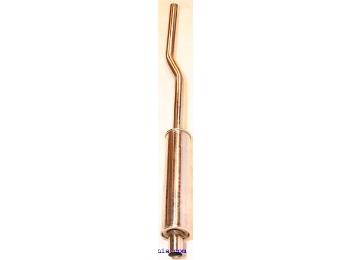 "Millennium" range for any MINI. Stainless steel front pipes with intermediate resonator to make two-box system. Connects from LCB to rear muffler (see RC40-051, -052, -053, -054, -055, -056.)
Fit RC40-060 to make two-box, stainless system from standard header.
Fit RC40-062 to make two-box, stainless system from catalyst.
The popular RC-40 exhaust system has been updated for the year 2000. All retain the optimum size 1.75" tubing for maximum performance and efficiency, but we now offer a choice of tailpipe size and configuration. In addition, they now have stainless steel pipes for better appearance an rust resistance. And for the first time ever they come with a front pipe to fit right onto the collector fo an LCB header with modifiation. Front pipes come either "straight through" for use only with the rear muffler, or with a built-in resonator for quieter twin-box systems. Order front and rear pipes seperately to create your own system. All tail pipes are highly polished with rolled edges.