Classic Motorsports Magazine and Mini Mania have teamed up to restore a 1967 Mini Cooper S. This rare jewel still has a complete Cooper S drivetrain and hydrolastic suspension as well as an under-the-hood original Tartan Red paint job. The folks over at Classic Motorsports have been chronicling the restoration since September 14 2013. So, here we will catch you up on the work that has been done and will keep you updated on what's next.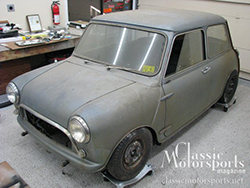 Check out the following links to read about this fun Restoration Project!

1. Project Introduction: 1967 Mini Cooper S

3. Starting our Mini's Rebuild

5. Head Work

7. Putting our Mini's Transmission back together

8. Changing our Mini's Rings and Pinion Gears

10. Rebuilding the Shifter Mechanism

11. Stripping down the little Body

12. Rehabbing Subframes and Suspension

13. Blasted Media!

16. Rebuilding the Hydrolastic Displacers

17. Powdercoating the Suspension

18. Body Welding

20. Metalwork Resumes in Earnest
21. Fixing the Mini's Cowl and Inner Fender Well
22. Carb Rebuild
25. Testing the Engine Out Of The Vehicle
26. Flooring It