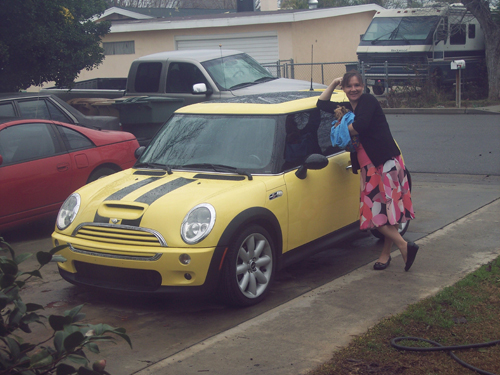 Hi,
I'm Charlotte (we don't name our cars, we drive them… it's a bright yellow Mini cooper, it don't need no name ;) and we live in Bakersfield, CA.
This is my wife, and her little yorkie, the day after she brought "her" Mini home. (she had been a stay at home mom for 5 kids for 25 years. This is her reward to herself) She has wanted one from the very first day I showed her the concept photos on the internet. I took her on a business trip to Irvine once just so she could test drive one (we didn't, and still don't have a dealer in Bakersfield = fail :( It was almost closing time, and the dealer was very gracious, but he gave us a car very low on gas. So low in fact we ran out more than a few blocks away. When he picked us up he was so embarrassed he promised he'd full a tank and let us take it all day, if we wanted. (he knew we came all the way from Bakersfield)
The only mod it has is a full Magna Flow exhaust, which sounds great, and she loves, and tinted windows. Yes it's an S with a 6 speed. She wouldn't have it any other way!
No clubs or events, she just loves driving it. It's her daily driver, and I'm lucky enough she lets me drive it once in a while too.
(I'm a multi time Kart racing champion. It is one of the funnest cars I've enjoyed driving. As a teen I also raced undefeated for 2 seasons in autocross using an Opel GT. This Mini reminds me a lot of that car.)
Thanks,
Wayne Um... i mean, Charlotte. =)