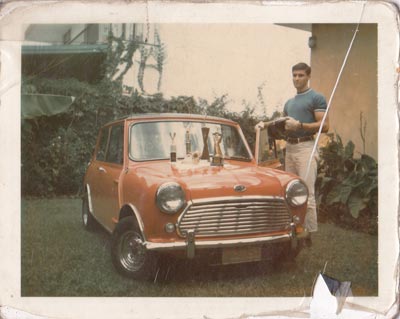 This picture was taken in the year 1970, the Mini is an Austin Cooper S, 1275 c.c., model 1968.
It was my second car. I used it every day to go to college in Guatemala.
When this picture was taken I was 22 years old, I am 63 years young today !
What can I tell you about my love with this car?
Well, I used to race it during the year (3-5 times). The Mini was prepared using parts from a British company named "Speedwell".
The modifications were spartan, a special ported cylinder head, a 45 DCOE Webber carburator, headers, a straight pipe, no air filter, stiffed suspension (hidrolastic if you know what it was ) , wider rims and Dunlop racing tires. Of course, the interior was trim with no rear seat and detachable passenger´s seat. I love the performance of this Mini, top around 110 mph, 0-60 around 9 seconds was pretty fast in those days. I also could drag race the car, it could go neck to neck with a 350 cubic inch Camaro and beat it in the 1/4 mile.
I have a 2004 Mini Cooper S with the Stage 2 by Mini Mania, pretty sound car and no problems at all. Is fast & very dependable.
When the news came in the year 2001 about the new version, it took my sleep away!!.
I ordered mine in mid June 2003 from a dealer in Miami and in January 2004 shiped it (ocean freight) to Guatemala were I live.
I am a veterinarian with a Master´s degree from Texas A&M, my Mini I will keep from now on. I don´t think in selling or trading it like my old one, which was a big mistake!
I hope this story will reach your heart.
Sincerely,
Dr. Christian Meyer