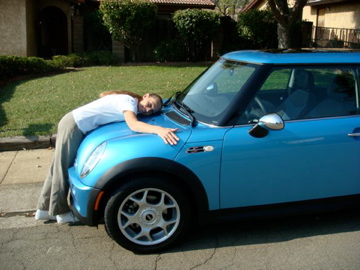 I have wanted a Mini Cooper since they first came out, but wanted that 'electric blue' color, the sun roof, S model and all one color. Every so often I would search on my computer....'60 mile radius of Redding' or '60 mile radius of Santa Rosa' where our son managed a BMW shop. At the time, I was driving a perfectly nice 325 BMW so was not in dire NEED of a 'new' car.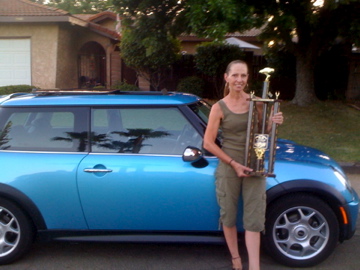 On a Sunday, in 2007, I put in the '60 mile radius of Santa Rosa' and this car popped up....love at first site, I sent the link to my son and within an hour he had called the couple and had an appointment the next day at his shop in Santa Rosa to take a look at it. By the time I got home on Monday from work, my husband had bought the car, site unseen! I was thrilled, we drove the BMW to Santa Rosa the following Saturday, left it with our son to sell, and drove home in my 'new' mini...I was so excited, I when we got to Redding, I got out of the car and just had to 'hug' my mini!!! Last summer, my mini won a trophy at a car show in Redding!
- Ellie Thompson 2004 Mini Cooper S
No modifications or fancy accessories, want to keep it 'clean and sleek' looking!
Car Shows: Santa Rosa Mall Car Show, Kool April Nights Car Show, member of Shasta Mini's, Redding, CA.
Participated in Track Day at the Anderson Race Way, driving with an instructor on race course.