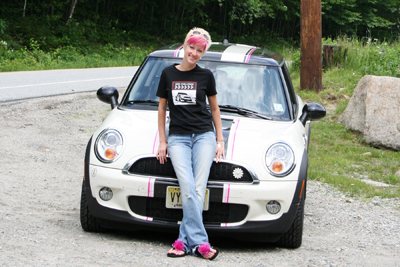 BASICS...
My Name: Heather
MINI Name: Moxie (white R56), Minja (black R56)
Location: Northern NJ, USA
Car Club: Former co-president of Hudson Valley MINI
ACCESSORIES/MODS...
Moxie: PW/B, fully loaded 2007 MCS. She was pretty much stock except for the custom stripes that I designed for her.
Minja: Just got my new boy in January, so mods are in the works! He is an all black, 2011 MCS, fully loaded with the new MINI Connected system... so he's pretty cool to start with :)
Me: MINI wing tattoo on my left shoulder
4 PHOTOS...
#1 - Me and Moxie... girl-on-MINI action is always fun
#2 - Me and Moxie. I would always dye my hair to match her for big rallies and events.
#3 - My MINI tattoo
#4 - After motoring nearly 100,000 miles in Moxie, we had to say goodbye. It was tearful, but I now have Minja in my life. Isn't he a handsome little devil? He's all stealthy like a ninja, but since he's a MINI... well... that's why he's Minja!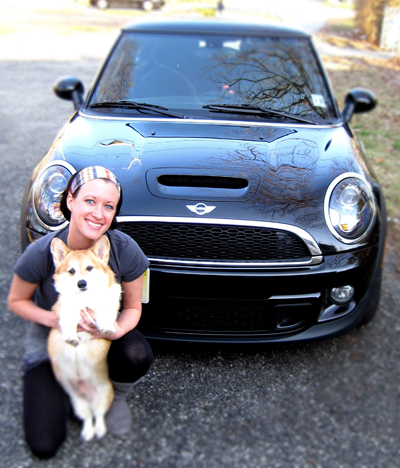 I have attended almost every Prestige MINI sponsored event and rally since late 2007. I also attended and organized the Hudson Valley MINI events when the club was still operational. Moxie even made it to the top of Mount Washington in NH (twice!) during MINIs on Top in 2009 and 2010. I also covered the events for Miniology.com, where I was even featured as a MINI Babe of the Month! The 2011 rally season has just started here in NJ, so Minja is still awaiting his official public debut.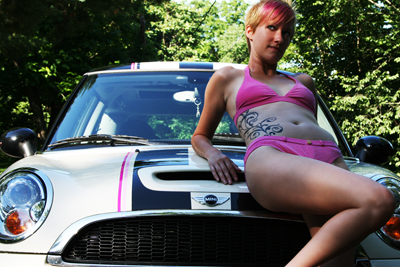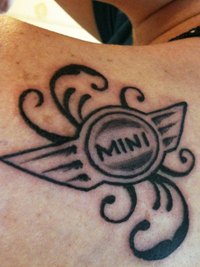 I knew I wanted a MINI from the very first test drive. I custom built my car and then waited a few long weeks for her to arrive. When I finally got the call to come take delivery, it was love at first sight. From that day on, MINI's became my passion. Rallies, forums, events... I try to do it all. I even had my wedding photos taken with Moxie in them. Ironically, she lasted longer than that marriage did.
Last year, before attending MINIs on Top, I had the MINI wings tattooed on my shoulder to permanently brand myself with my love of all things MINI. Granted, I can't take the car apart or do my own mods, but the lifestyle and people that I've met have just drawn me in. My favorite MINI-related quote is that "MINI's are the only cars that come with friends." And its true! I have met some of the best people I know thanks to MINI... the most important of which, is the love of my life. Who knew that you could find both true love and great cars at a MINI dealership.