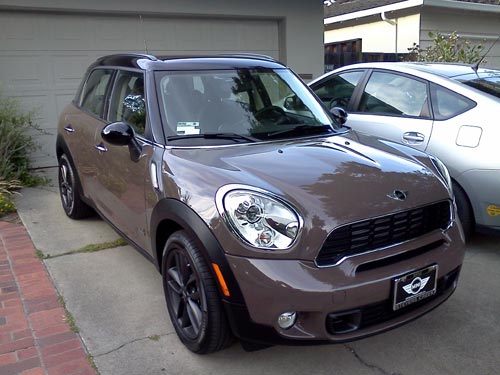 Janet and I had prepared for this day. I had assembled a specification for the car to replace our Honda Pilot. We had driven over a dozen different cars, all in the 5-door hatchback class. Some were a pretty good fit and looked like candidates - until I heard of the new 4-door MINI.
We drove the manual and automatic versions, FWD and ALL4, and with various option selections. We assembled a list of options and features that could work for us. Our Motoring Advisor found an ALL4 already manufactured on the way, and we signed up for it. When it arrived, however, we found that we really wanted some features it lacked, so we sat down with our MA and, line-by-line, designed the MINI Cooper S Countryman ALL4 for us. After two months wait, we had named this new member of the family ("Fenton") and had scheduled an appoiment to meet our first MINI.
As we drove to our MINI dealer, I was remembering the fun I'd had rallying in the 60s and 70s with a friend and his classic Mini. We had even torn down the engine, blueprinted it, and reassembled it to get the maximum performance. I hoped our first MINI would be as satisfying to drive as I remembered my friend's car to be.
We met our MA who proudly walked us to where Fenton was parked. We loved the colors we had chosen (from the catalog) and everything looked really good BUT it had different wheels installed than we expected. We went through the order and found that the color was a match but the style we ended up with was a surprise. Our MA, the parts department head, the service department head, and the sales manager all went off to see if they could find a solution. After about an hour, the desired wheels were found, the tires and wheels were swapped, and Fenton was rolled out to a joyous reunion for a check drive.
We hopped in, enjoying the new car smells, and drove the familiar route we'd used to check out all the candidate cars. Everything was as we had hoped it would be: comfortable, zippy, and fun. We finished up with the MA, spent an extended session with the finance guy, and, now late at night, finally drove Fenton home (photo).