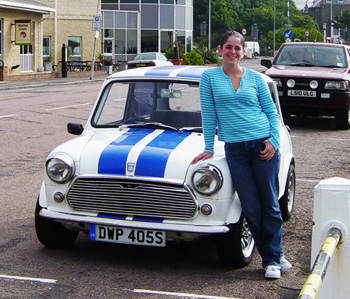 My name is Jennifer. My husband and I have had two classic Mini's which we bought in England while stationed there for the U.S. Air Force.
Our first Mini was a red 87' named "Mable". She was unfortunately killed in an accident on a back country road in England.
Our second Mini is a 1978 Leyland which we bought in Birmingham we still have. We brought her back to the United States and is currently going through a complete restoration.
While in England we traveled everywhere in our Mini. We would take road trips out to Great Yarmouth or down to Dover and catch the ferry over to France just to buy an ice cream and then travel back home. My greatest memory with our Mini is bringing our first born son home from the hospital in her. What a great little car!!
Thanks,
Jennifer Martin in Illinois