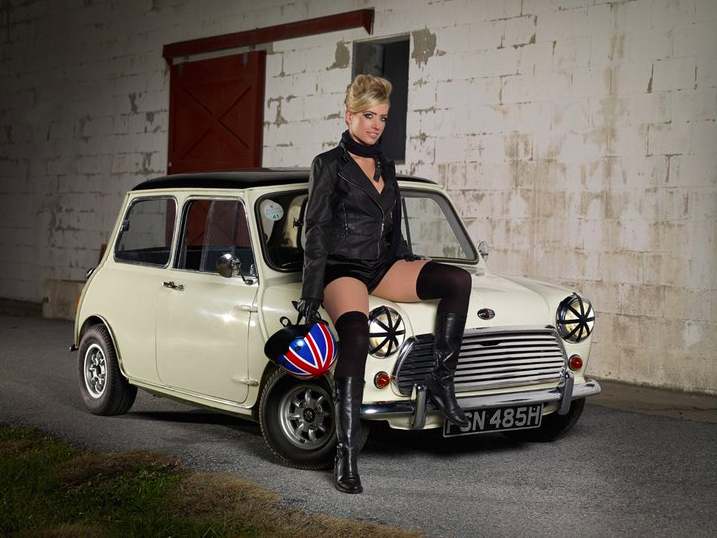 My name is Julie Gross. I am from Philadelphia, PA. You can find a bunch of photos with me and my MINI and I have a very MINI and Classic Mini history. I have been on many a roadtrip, vacation and adventure with my MINIs and Classic Mini. I have had four in total. My current MINI is a 2011 MINI John Cooper Works. I started the
PhillyMINI.org
Club in Philadelphia and assembled a team of like-minded folks, some of which are still at the helm of the club
today
. I have done numerous track days and autocross and car shows. I'm not sure what I should send that wouldn't be overkill :)

About me. Yes, I am a Leo after all, so it IS really "all-about-me". Come on people, lighten up I am not really that full of myself - haha! I used to be a MINIac (big fan of the MINI Cooper) for about 4 years. You should KNOW MINI fans are cool, a little bit campy [ after all, I was quoted in the Philadelphia Inquirer saying that very thing ;-) ] and very technologically savvy to boot so it JUST MAKES SENSE that I have a profile on the internet.
CooperSQT's my screen name, so you can find me on the other MINI-related internet communites as well that way. How did I get here? Pull up a chair, here's the story:
My relationship with MINI began when I bought a Cooper S in 2003. Shortly after that I was invited to The Italian Job premiere, and with a theater full of MINIacs, I was inspired to start a Cooper Club called PhillyMINI- A club for Philadelphia Metro-area MINI enthusiasts. A number of my customers have ended up joining the club. Since July 2003, PhillyMINI has grown exponentially, drawing enthusiasts from throughout the tri-state area. I retired from PhillyMINI in 2006. In fact, it was through PhillyMINI that I became a Motoring Advisor at Otto's.

I was approached to talk shop on Saturdays with clients at MINI of the Main Line. Since Otto's had been so kind in sponsoring events for our club, I felt compelled to call them about my new "MINI P.R." position at MINI of the Main Line. Otto's had a full-time position available as a Motoring Advisor, and they wanted me there - so the rest is history. Three years later, things have come full circle now, so I am now converting driver's (yawn) to motorer's (yay) at MINI of the Main Line!

MINI calls it YOU-ification - the individuality of the MINI, and the small details that let you make your MINI truly unique. See the photo of my first MINI Cooper S? The o3 British Racing Green with the Union Jack roof? Yeah, that's the one. I also had an o6 Astro Black MINI Cooper S and a 1969 Austin Morris Mini Cooper S, that's the ORIGINAL Mini - not MINI ;-) This one really IS Mini. I just sold it in 2010 and miss it already. It went to a good home. Now, the current MINI is a John Cooper Works...wow this car is fun.

In addition to my life as a MINIac, I'm a freelance designer, which I've been doing for the past 20 years, a career that existed before computers invaded the industry. I was designing when cut and paste meant you were sniffing rubber cement and rolling boogers while actually cutting with exacto blades. Yeah, so that means I am a MAChead, I have an iPod, I'm pretty decent with video editing and a camera. I enjoy electronic music, nightlife, dining and travel. I ride a Triumph Daytona 675. I'm a sushi snob. My best bud is Louie, my French Bulldog. I also ski and miss competing in cross-country mountain bike racing, but that was fun. [ Sounds like I am on the "Dating Game". ;-) ] I enjoy the urban lifestyle for an occasional good time, but decide to reside in the 'burbs - more great twisty roads but...remember stay out of the left lane!