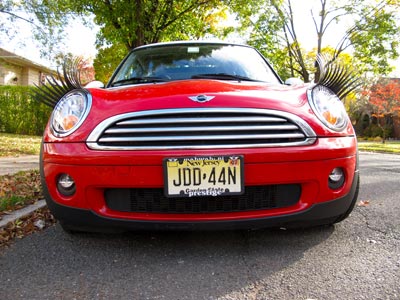 My story about my first mini is not too unusual. In fact it is not unusual at all. When I first saw a commercial for the Mini Cooper I knew one thing. I HAD to have a Mini Cooper. I knew I HAD to have a red one with a white roof and it HAD to have a sunroof.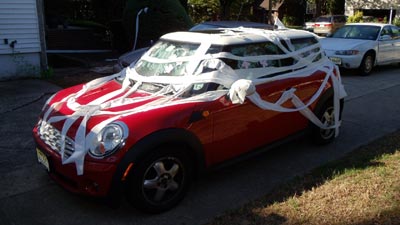 It was 2008 and gasoline prices were going up, up and up. That was my reason to tell my husband I needed to sell my mini van and get a more economical car. We have always been a family that ran our cars to the ground. Luckily we always had cars that kept going and going. We went through a 1970 VW van. A total of 3 engine jobs and over 250,000 miles. It had forced hot air that came off the engine to heat it and most of the vents were rusted out. We finally gave in when during a trip to Florida in November with a 2 year old and a 4 month old we hit frost in Georgia and we had no heat. I was asleep in the back with the kids and I woke up to see vapor coming out of my freezing husband's mouth and nose. I was half asleep when I asked him where we were. I was waiting for him to say Canada when he surprised me by saying Georgia! I quickly looked through the suitcase to see what I could bundle him up with so he could move on. Socks make great mittens in a pinch. We also had a Datsun (No not a Nissan) that if you hit a puddle you got a free foot wash. Not too good if the puddle was a slushy snow puddle in December! Convincing my husband that I needed to get a new car when our Mini van still had heat and floor boards would not be easy.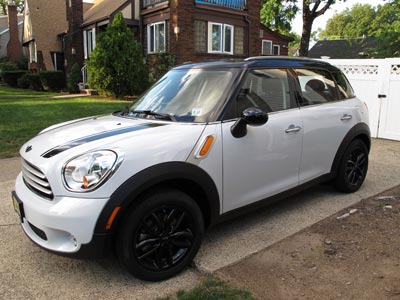 Much to my surprise Geoff was not against me getting a new more economical car. He was fed up with the price of gas as well. We looked at a few different models of economy cars . I fell in love with non of them. I knew in my mind it had to be a MIni. Finally and coincidentally enough, we went to Prestige Mini in Mahwah, NJ. We looked at the used ones but they were loaded with extras and they were out of our budget. We went into the showroom and looked at the brand new ones. Did I tell you it also happened to be my birthday? Good move Leslie! We did it! We bought our first Mini on my birthday, June 30, 2008! What a gift. I will never forget it. We ordered Maybeline, yes that was her name and when you see her picture you will know why. and the wait began. I looked at the Mini owner's lounge every day hoping the status of Maybeline's progress would change. Finally the day came that she was on the ship from England! I Googled how long it takes to get from England to the US by ship. I jumped every time the phone rang hoping it was Prestige Mini. On August 5, 2008 I picked Maybelline up! My dream car was here and she was mine! She was Chili Red, adorable, great on gas, she got attention wherever I went and I have her picture framed and proudly displayed in my den.
As sad as I was to let Maybeline out of my life I am now the owner of a Mini Countryman. His name is C. Everret Cooper. The "C" stands for Cecil.