MINI COOPER SERVICE AND MAINTENANCE SCHEDULE FOR 1st GENERATION MINIs
Applies to:
2002-2006 R50 MINI Cooper Hardtop
2005-2008 R52 MINI Cooper and Cooper S Convertibles
2002-2006 R53 Cooper S Hardtop


The list may not be complete as service items may have been added by the factory since this list was created. Some dealers may perform fewer or more items than this list.
This list is only an 'unofficial guide'. See YOUR Mini Owner's Guide for maintenance requirements for YOUR Mini.
Maintenance Schedules for Gen 2 and Gen 3 MINIs

For the the 2007+ 2nd generation Minis, see Mini Cooper Service and Maintenance Schedule for 2nd Generation Minis

For the 2014+ 3rd generation Minis, see Mini Cooper Service and Maintenance Schedule for Gen3 Minis


For a guide to performance parts, see Mini Cooper Performance Parts - An Upgrade Guide for your Mini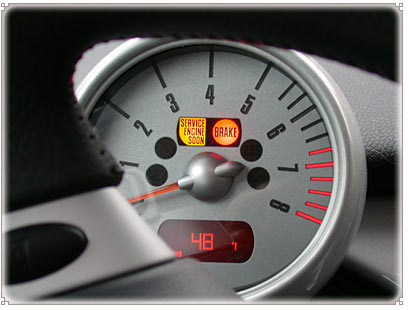 Mini Coopers have 3 types of service:
Oil Change
Inspection (I)
Inspection (II)
Your Service interval display located in the center of the speedometer will notify you of which service type you need. Each time the vehicle is started the display will show the mileage until the next service is needed.
If the display is flashing and the mileage is displayed as a negative you have gone past the time of service and are overdue.
The services come in this order,
Oil change
Inspection (I)
Oil Change
Inspection (II)
repeat
Inspection (I) is also known as a Minor service and Inspection (II) is also known as a Major service.
Inspection II includes most of the tasks from Inspection I with additional Inspection II tasks.
OIL SERVICE:
Oil and Filter
Reset service interval display
Interior Cabin Filter
Check brake pads
Check brake rotors
Clean brake pad contact points
Grease wheel centering hubs
Check parking brake

INSPECTION I:
Oil and Filter
Check Transmission Fluid for leaks
Change CVT (automatic transmission) fluid
Check CV joint boots for damage or leaks
Visually check fuel tank, fuel lines and connections for leaks
Check condition, position and mounting of exhaust system. Adjust if necessary.
Check struts and shock absorbers for leaks
Check front control arm bushings for damage or wear
Check power steering system for leaks. Check fluid level and add if necessary.
Check steering rack and tie rods for tightness.
Check condition of steering linkage and steering shaft joints.
Check overall thickness of front and rear brake pads.
If replacement is necessary:
Examine Brake disc surface
Clean brake pad contact points in calipers
Grease wheel centering hubs
Check thickness of parking brake linings only when replacing rear brake pads
Check operation of parking brake and adjust as necessary
Check brake system connections and lines for leaks, damage and incorrect positioning
Check parking brake actuator. Adjust if necessary.
Check all tire pressures (including spare if equipped) and correct if necessary.
Check condition of tire tread surface, tread wear pattern. Align if necessary.
Inspect entire body according to terms of rust perforation limited warranty. (Must be performed every 2 years)
Read out on-board diagnostic (OBDII) fault codes
Check engine coolant system / heater hose connections for leaks.
Check coolant level and antifreeze protection level. Add if necessary
Check windshield washer fluid level and antifreeze protection. Add if necessary.
Check air conditioner for operation.
Replace ventilation micro filter. (Reduce replacement interval in dusty conditions.)
Reset service interval display.
Check battery state of charge

Check operation of:
headlights, fog lights, parking lights, back-up lights, turn signals,
emergency flashers, stop lights, license plate lights, interior lights,
glove compartment light, make-up mirror light, flashlight,
engine compartment light, trunk light.
Check instrument panel lights
Check warning and indicator lights, check control
Check operation of horn, headlight dimmer and flasher switch
Check wipers and windshield washer system
Check aim of washer jets and adjust if necessary
Visually examine all airbag units for torn covers, obvious damage or attachment of decals, decorations, or accessories
Check central locking system
Check operation and condition of door, engine hood and rear hatch latches
Check heater, air-conditioner blower and rear defogger operation
Check operation of rear view mirrors

Check:
braking performance
steering
heating
air-conditioner operation
Check manual transmission and clutch or automatic transmission operation

INSPECTION II:


Air filter Element
Serpentine Belt - 60,000 miles for Cooper S
Brake Fluid - Every 2 years (dealer recommended)
Coolant - Every 4 years
Oxygen Sensor - Replace at 100,000 miles
Spark Plugs - Replace at 100,000 miles
To Reset Service Indicator Lights (SIL)
Sit in car, close door and turn ignition on.
Press and hold trip reset button for 10 seconds.
The upper display in the tach will be illuminated with a service item.
The lower display in the tach will indicate the remainder left for that service item.
Pressing the BC (board computer) button repeatedly on the end of the turn signal stalk will allow the display to scroll through all of the condition based service items.
To Reset, press and hold the bc button again and the lower screen will indicate reset.
Pressing the bc button only resets the item displayed in the upper window only.
Repeat the procedure for any additional service reset needs.
Don't pollute. Conserve resources. Return used oil to collection centers.
Save
Save