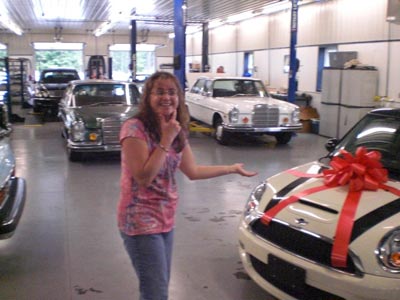 What makes this great ...is that MINI and I share the SAME BIRTHDAY!!!! I was born Aug 21, 1959. And just when I turned 50 years old...2 years ago....my husband surprised me with the car of my dreams! A MINI-COOPER S !!!
He told me we were heading to a car dealership to see about a Dodge Charger that he was interested in buying for himself...so...I went along to look at this car and give my opinion. We arrived at the car lot and was told we had to wait in the front office while the 'Charger' was being brought up to the front lot for us to inspect. It was a wait of about 10 minutes and I sort of became a aware of snickering and staring by the employees of this dealership as we sat and waited. In retrospect....they were all in on the surprise and were waiting for my reactions. After the 10 minute wait, my husband and I were ushered to the back of the warehouse by most of the staff... and ....there sat....a beautiful 2008 Mini Cooper S with a BIG RED BOW on top. Everyone stopped walking and looked at me...and then my husband whispered...."Happy Birthday Honey"!
You know...I burst into tears of joy and surprise and do so every day I drive my MINI!
The picture captures the moment I realize this is my car!!!
Thank you!
Mary Jamieson