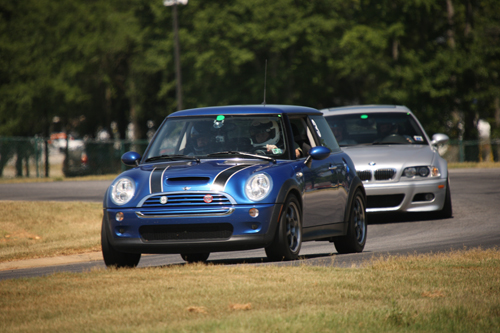 Highly Optioned and Low Maintenance.
The speedometer climbed. The wind noise grew louder. The whine from the supercharger overcame every other noise at that moment.
Just a typical vacation at the track. Yes, my 2005 MINI Cooper S named "Madeline" and I travel all across the USA and complete BMW CCA driving schools. Sometimes I am the only girl and the only MINI. Makes no difference since this little team prides itself on efficiency and maintaining that racing line. So far we have carved up Virginia International Raceway (VIR), Road America, Mid-Ohio, and BeaveRun. Plus Watkins Glen and Barber Motorsports Park on the agenda this year.
The fantasy story begins when the car was bought new in 2005. Many options were left out due to their weight factor. My car was ordered sans the moon roof, CD changer, and even cruise control to cut back on the pounds. Even then I would have never dreamed it would be the wonderful track car that it is today. It was built with speed and time. Parts added here and there. Pulley, exhaust, big brakes, and suspension bits were not all ordered at once. But finally each piece of the performance puzzle came together. With a custom tune from Revolution MINI Works, it was proven on the dyno at 207 hp at the wheels. Not too bad power for a car that weighs approximately 2480 pounds with me in it!!
It may sound cliché, but I cannot imagine my life without my MINI. Fate has brought us together. I have been to so many places and met so many people just owning that car. I enjoy being a part of the MINI community and being around others who love these awesome little cars.
The photos I have included are from the various tracks. The short video is from the front twisties at VIR.
Thanks for reading about my MINI!
Sincerely,
Melissa Clay

Car mods: '05 R53: M7 strut tower bar, M7 Intake, TSW engine damper, H-Sport 22 Rear Sway, DDM Rear Brace, DT Bypass Valve, MSD ignition coil, custom RMW tune, helix camber plates, H-Sport adjustable control arms, poly motor mounts, PSRS, Detroit Tuned big brake kit, 16" SSR comp wheels, 2 Sparco Evo 2 seats, 15% ALTA pulley, JCW injectors, lightened crank pulley, stratmosphere exhaust

Car clubs: 2011 PittStop MINI Club President (Pittsburgh, PA MINI Club) and a BMW CCA member
Autocrossing since 2004 and tracks visited include: VIR, Road America, Mid-Ohio and BeaveRun. Later on this year going to Watkins Glen and Barber Motorsports Park.