Mini Evolution
There are some who study Evolutionary psychology who believe we have peaked. Physically we are growing, but mentally we haven't evolved much at all. Technology is still growing however, and nothing is more evident in technology than the evolution of the driving experience. I can only speak for myself, but I've been driving for over half a century. I have driven everything from Rolls to Volkswagens', from Fords to Isuzu's. But, what really made me am auto-enthusiast was my first sports car, a 1972 MG midget. Everyone knows you can never get your youth back, but you can always dream!
It was an Austin Healey that introduced me to the British Motor Company and English auto technology. I had a friend whose brother had an Austin Healey, and he stuffed me in the back and showed me what these little cars could do. 120mph with three people in the Healey was a thrill! Then I got the midget and people used to say how small it was, not knowing the cars reputation. It was like a go cart with 1275cc, handled beautifully, and when I took it cross country cost about fifteen dollars in gas to Florida. I'll never forget how the tractor trailers used to blow me in to the next lane on the interstates. That's another story, but after forty years of driving it was hard to get that thrill again. Until recently, the Mini Cooper came in to my life. Not just any Cooper, but the 2006 Cooper S with the works! I only wish it was mine!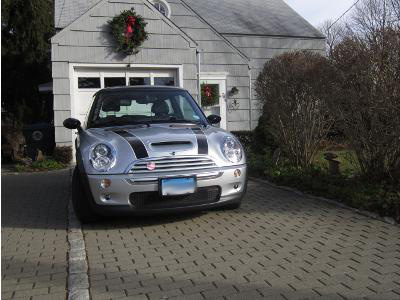 My wife was looking to replace her Mercury mistake (Mystique). The Merc served us well, but it was no Cooper. We got a really good deal on the Merc, and it came with a Ford mechanic in the form of a son-in-law. I knew I was in trouble when I first test drove the Mini for her. It was like the Midget on steroids! I knew I was in trouble again, when I took my wife for her first test drive. I was praying she would like it. She was doing about seventy in fourth gear, and I had to tell her she had two gears left. It literally jumped when the supercharger kicked in. She was hooked! When you've been married almost forty years you tend not to listen to your spouse. I think it's a survival mechanism! Luckily, my mechanic son-in-law reassured her it was as good a deal as the Merc. After negotiating with my new best friend the previous owner who said,"This is not a poor man's car!" we got it!
I know that happiness is subjective, but anyone who knows machines knows, that the marriage of German and English technology is pure happiness in a driving experience. Technology is definitely evolving in the auto industry, and someday the sports car will be completely changed. Even the great Sir Stirling Moss notes that safety features have robbed the sport of the thrill. What a machine BMW has evolved in the Mini! A machine that can still provide the thrill of youth, and excitement for new enthusiasts. Bravo!