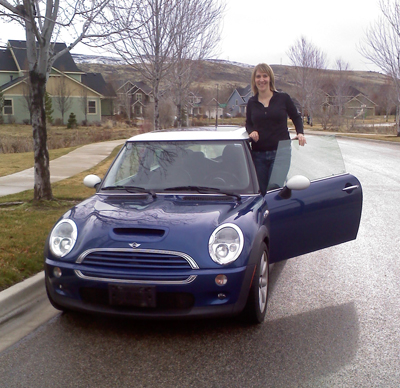 Nicole Heinrich and Lola ('cause she's a showgirl...looks like one anyway!)
2003 Mini Cooper S, Indi blue w/white top
Ferndale, Washington

We had purchased a Chevrolet Tahoe at the end of January and certainly
weren't in the market for purchasing another vehicle. It was a Friday
morning in March when driving to work and I got in an accident. The
insurance company decided to total out our old, paid off, vehicle. We ended
up with some money and that's when we decided to get the MINI. Our only
stipulation was that a carseat needed to fit in the back. After confirming
that we were on the lookout! (Made total sense to me with the price of gas
sky-rocketing. Not to mention it is the cutest car out there!)

We had been looking everywhere and decided to contact a private party in
Boise, Idaho. They ended up holding the vehicle thru the week for us. So,
Friday afternoon we made the whirl-wind, 9 hour trek to Boise to check out
the car. It was love at first sight. We looked at the car at 9:00 am
Saturday morning and were on the road back home again by 10:00am. (Did I
mention this was the day before my birthday? Score for me!)

Although she has the John Cooper performance upgrades, the only things we
have done to the car (since ownership at the end of March) are new door
speakers, new wiper blades, new tires and new front hood scoop. (I think she
might look good with some stripes and driving lights though!)

We are not part of a car club and do not know if she has been in any shows
or raced.

I am really enjoying the MINI and often get a little wave from other MINI
owners while driving around town. I've decided MINI owners are fun people!

This is the first picture of me taken with Lola leaving her old home of
Boise, Idaho. I sent a mass picture text to my friends and family letting
them know we decided to come home with her.