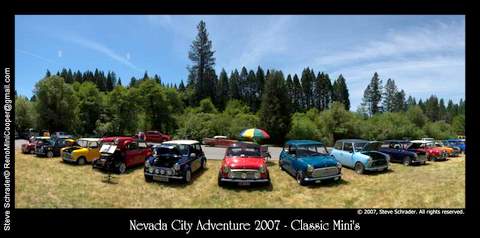 The 6th Annual Nevada City Adventure was a great success with over 100 BMW MINI and classic Mini Coopers in attendance.
MINI Cooper enthusiasts drove from all over the West to participate in this year's event. Numerous prizes were given away, including a Stage Two Kit for BMW MINIs and an engine cylinder head for classic Mini Coopers. Mike Powell of Camino, California won the cylinder head and Jim Bratton of Atascadero, California won the Stage 2 Kit. "I have to sit down," was Jim's reaction after he won the $2000 stage kit. "I was in shock when I won." Each Mini Cooper at the event was automatically entered in the Grand Prize Giveaway drawings.
"We thoroughly enjoyed hosting the huge range of Mini Coopers and their owners and friends at our facility this weekend," said Don Racine, Owner of Mini Mania. "We appreciate being a vital part of this vibrant community of Mini enthusiasts. And the two lucky winners are very happy they attended!"

The Gold Country Motoring Tour proved very popular with some 35 Mini Coopers taking the tour. The tour included local California Historic Landmarks such as the Empire Mine State Park, the National Hotel and the South Yuba State Park, which is referred to locally as Bridgeport, the longest single span covered bridge in the United States.
In additon, hundreds of dollars in donations were generated for two local charities during the event. The local chapter of the American Red Cross and Sierra Presbyterian's Youth Group received funds from the raffles and food booths, respectively. NCA 2007 ran from 8am to 4pm this year and included activities such as Do-It-Yourself workshops, a Gold Country Historic Motoring Tour, slot car races and lots of raffles.




See more photos from the event here...