Phil Wicks Racing
VDCA Hotlanta Races
Road Atlanta – Braselton GA – June 26 – 28, 2014
RACE REPORT
Coming straight off the Mid-Ohio Can-Am Mini Challenge race in June, I pulled the cylinder head of Snoopy, my 1967 Austin Mini racecar, and freshened it up. Everything seemed okay. We found a couple of things amiss on the front suspension and corrected accordingly.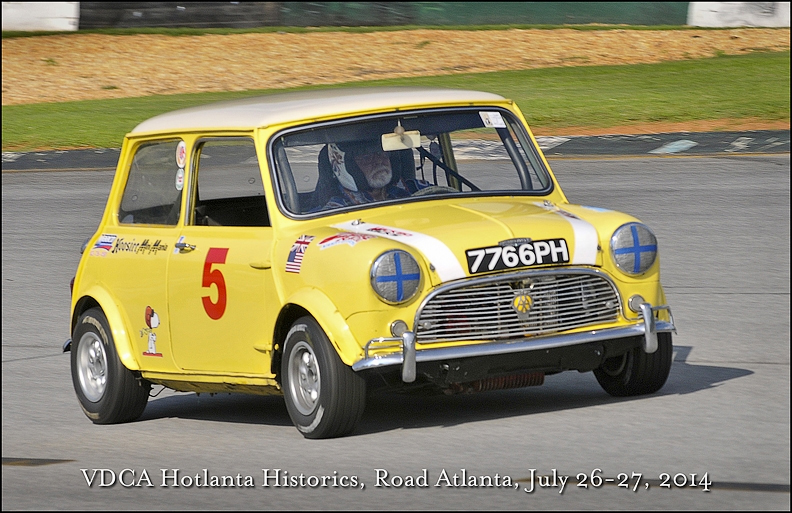 We set off for Road Atlanta on Friday morning to join my teammates from Nashville TN, Zapata Racing. The group comprises of drivers in MGAs, older Porsche 911s, Triumph Spitfire, and MG Midget. VDCA had arranged for the race entrants to have a one 30-minute test session late on Friday afternoon, June 25. We took advantage of this test session to make sure everything was ok with Snoopy and the new suspension set-up. I was very pleased to see my Hoosier HDS DOT race tires were "scrubbing in" much better on the new set-up. Everything seemed okay.
Saturday morning, the weather was 80 degrees. We had official practice. The group on the track included groups 1, 4, and 9 totaling 31 cars made up of small bore sports racing cars: MGA, MGB, MG Midget, Austin Healey, Porsche 356, Formula V, Fiat 128, Datsun B-210, and Mini Cooper S 1275. I was kind of surprised to see that I was 3rd fastest overall and 1st in my class. I guess, like me, everyone was taking it really easy!!! My laps times were 1:54.
The second session in the afternoon was official qualifying session I. The temperature was mid 90s – VERY HOT. Snoopy was running very well and the auxiliary fan was keeping coolant in an acceptable level. But the track was slowed due to surface of the track, and the hot air is not ideal for a race car. I was not surprised to see my qualifying times of 1:52. Normally, I would be 2 seconds quicker than this. However, it did place me 3rd fastest overall and 1st in my class. The 2nd qualifying session produced the same results.
SATURDAY FEATURE RACE:
After 1 lap behind the pace car, the green flag waved. It was a small sports racing car with a 2-cycle high reving engined car that led the race, a very quick Austin Healey MK II Sprite second, closely pursued by myself in Snoopy – 1967 Mini Cooper S 1275.
I pushed very hard and, for some reason, the Sprite pulled off the track. Just behind me was one of my students, Shea Brown, in the Fiat 128. He learned well and was soon taking the same racing line as I was. But Snoopy soon pulled away. The rest of the chasing pack were some distance behind. I could not catch the sports racer, so that is how it finished after 11 laps. I was 2nd overall and 1st in class.
Also in this race was another of my students, Becky Labatt, in her MG Midget, who achieved her personal best lap time during this race. There were other students/graduates of the Phil Wicks Driving Academy in other race groups throughout the day.
SUNDAY FEATURE RACE:
12 noon, temperature in the mid 90s – VERY HOT and HUMID. It was the same line-up for the frount 2 ros. I was in 3rd place at the start. I made a good start and passed the Sprite on the inside going into turn 1, flat out in 3rd gear, 8,000 RPMs. All 3 cars were very close at the first lap. On the 2nd lap, the little sports race went off. I don't know if it was driver error or mechanical breakdown. The Sprite just had the edge on me on the back straight and eased past me (more aerodynamic car than the box like my Mini), I kept close company to the Sprite, but each lap, he would widen the gap on the fast back straight. So, 2nd again overall, but 1st in class. Same lap times of 1:52.
In four years, I have run in 31 races placing 1st in 27. The new set-up of my suspension gave me even better grip on my fabulous Hoosier HDS tires and are wearing more across the tread surface.
As always, many thanks to Mini Mania for parts, technical advice, and generous sponsorship; the Brusnahan Clan for financial sponsorship; Midlands Motorworks of Columbia SC for wrenching; and the continued encouragement and understanding from my wife, Norree, and our English Cocker, Sherry. VIVA ZAPATA RACING, Nashville TN