Phil Wicks Racing - Heacock Classic Gold Cup
Virginia International Raceway – Alton VA – September 24-27, 2015
RACE REPORT + VIDEO (below)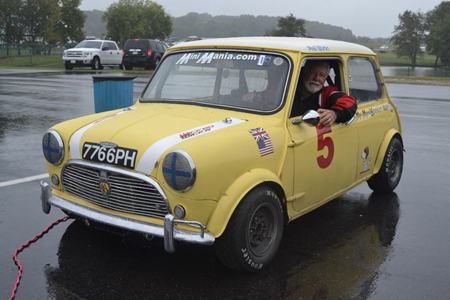 Driving up to Danville, VA on the 24th of September, I was thinking that I had had a very good season of vintage racing. We had won both races at Road Atlanta, not only being first in class, but won the Walter Mitty group wire to wire.
And later in July, the VDCA races, again at Road Atlanta, winning both races wire to wire.
The problem with winning a lot of races is that everyone wants to knock you off the top spot. How long can this 75-year-old bloke keep doing it? This is all going through my mind while I am driving to VIR.
Then there is the weather forecast: rain for the entire weekend. And the cars that are entered in my group (1) and in my class are as fast as my 1967 Mini Cooper S and many drivers younger than me. "You know what, Phil, " I thought, "bollocks to it! Get your head down and concentrate!" I'm looking forward to this race weekend at VIR.
My teammates from Zapata Racing were already pitted in the paddocks and saved space for our race car and transporter. Roger Brusnahan, my good friend and sponsor, had brought his big motorhome and very graciously hosted the Happy Hour Beer, Wine and Cheese party at 5pm. He later provided a cookout for some 20 people. A hearty meal, a couple glasses of red wine, and a good night's sleep. After driving my lap of the Nurburgring Nordschlaff, 15 miles of it with many laps in the wet, it's all in my mind. Concentrate!!!
Friday, September 25, First Practice Session
Nineteen cars were entered in the Group 1 Race group consisting of MGA, Austin Healy, Sprite, Formula V, Fiat 128, Alfa Romeo, Turner and my Mini Cooper S (Snoopy). This first session is going to be learning the line of the very wet track. I went out of pit road behind several other cars. Straight away, I could see cars making big mistakes. I saw cars driving the normal race line. At the apex of most corners, there were big puddles of standing water. In conditions like this, you drive the line with the least standing water. The hairiest moments were in the straightaways where there were rivers running across the track. My Mini would hydroplane and spin its wheels, sending me from one side of the track to the other. Not the fastest time in the group as it turned out, but that's okay. My experience of racing on many tracks in Europe had taught me to learn the track in the current conditions while slowly increasing speed. I had purchased a tire grooving tool, and with the advice from the tech guys at Hoosier, I cut grooves on a set of new Hoosier dry racing tires. There are no wet racing tires for 10" classic Mini Cooper S. This definitely helped traction, but tire compound is more important. CONCENTRATE!
Second Practice/Qualifying Session
The second practice session was at 4pm. After a consultation with Jeff Speer at Hoosier Tires, we increased tire pressures slightly. Not only was it very wet on the track, but the air temperature was only 62 degrees. We could not get heat in the tires. The rain had eased up to a slow drizzle and conditions were better. Modify the racing line accordingly, turn the car into the corner, ease up on the gas pedal, make the car rotate, back on the gas and the whole car is sliding through the corner under power. This is how a Mini should be driven and it is a lot of fun. CONCENTRATE!! Fastest time in the group at 2:45. "Ok".
Saturday, September 25, 2nd Qualifying Session
Conditions were much the same. Still raining with a 62 degree air temperature. I only did 5 or 6 laps with my lap times the same at 2:45. I was 9 seconds faster than my nearest rival which was one of my Zapata MGA teammates, Dave Nicholas.
First Race
The first race was at 4pm. SVRA decided the grid starting positions would be decided by points already gained throughout the year from their previous races because of a low entry. This put me and Snoopy 5th instead of 1st on the grid. But the four cars in front of me at the rolling start were my Zapata teammates in quick MGAs. At the end of the first lap, I was sitting in a comfortable second place. I was impressed with the handling of the MGAs fitted with Hoosier speedster tires. I did not want to press the MGA too hard. The driver, Dave Nicholas, is a very experienced race and would not make a mistake. But we both knew it was only a matter time and opportunity before I would pass him. My Mini seemed to be better coming out of the Oak Tree bend and I passed the MGA. I slowly pulled ahead and increased my lead throughout the rest of the race. We won by 9 seconds!
On the cool down lap, I realized I was soaking wet. The rubber gator surrounding the gear lever was letting in water. My feet, legs, and body were soaked. I didn't care. I won the race. Yea!!!
Sunday, September 26, the Gold Cup Race -- 9:30am
The weather was just the same as Saturday, very wet with a lot of standing water. We checked the Mini over and set everything the same as for the Saturday race. If the competition had been closer, I probably would have taken a little bit of the camber off the front wheels, giving a bit more traction in a straight line.
Even fewer cars showed up in the staging area for the race. This time, I was on pole position. Second to me was a very well driven Formula V. The rest of the field was made up of MGA, Austin Healy Sprite, and Turner. At the rolling start, I was first into turn one with the Formula V close on my heels. I didn't try to go too fast, just fast enough to stay in the lead, trying to get some heat in those Hoosier tires. Slowly, I pulled away from the rest of the field, constantly checking my rearview mirrors. There are some quick cars in my group and I expected someone to make a run on me. But it never came. CONCENTRATE!!
Okay, "One Lap to Go" sign appears. Keep it on the track, don't lose it now! Yea! Here comes the checkered flag. We won the Gold Cup Group One outright. The Formula V was a very well-deserved second place and a well driven MGA in third.
A great weekend! I thoroughly enjoyed it. I am going to fit a windscreen motor and blades on Snoopy for future wet races.
I would like to make a comment here and I hope it doesn't anger my fellow competitors. Why would you go to the time and trouble to prepare, enter, transport your race car to the track, pay all of the expenses which are considerable, and not even go out on the track and check out the conditions before deciding to abandon the potential race? I believe there are available very good tires that perform well in the wet, and are available in any size to fit most cars (but not 10" Mini wheels). Then there is the driving and racing of the car. If you take the time to practice in wet conditions, you will learn a lot about driving your car. Seek advice regarding tires and pressures, suspension set-up, and you almost certainly will enjoy it. Yes, you are going to get wet, but it's worth it.
And, yes, I am from England. And if we did not race in the wet, we would never get any racing at all. Respect the wet track, increase your speed slowly. Smooth is the hallmark of a good driver, and CONCENTRATE!!!
I would like to thank by sponsors and supporters. Hoosier Tires, especially on advice for grooving race tires for wet conditions; Mini Mania for parts and tech advice; EFS Combust Fuel Additive (the best cylinder head, valves, and carbon resister that can help overall performance. After the race, I pulled the cylinder head off and it was amazing how clean the valve seats were and how few carbon deposits were found.); the Brusnahan Clan for financial support and the best food and beverages in the paddock; Midlands Motorworks for heavy wrenching and keeping transporters running; my Zapata Team members from Nashville TN; and my wife, Norree, and our dog, Sherry, for love and understanding.