Phil Wicks Racing
Race Report - The Walter Mitty
Road Atlanta - Braselton GA April 24-26, 2015
1967 Mini Cooper S (Snoopy)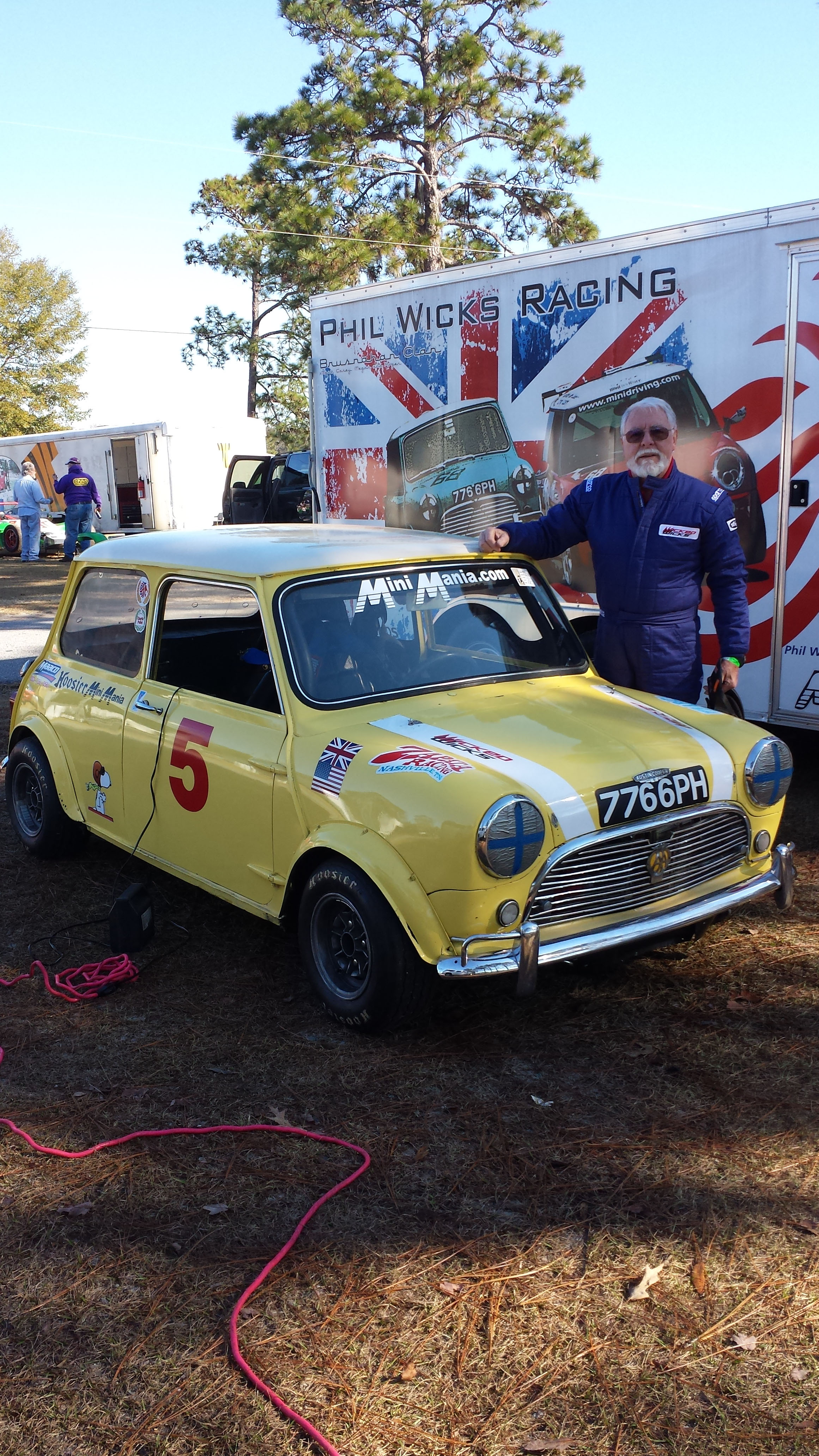 Well, the weatherman got the forecast wrong for Braselton, GA, at least. It did rain Friday night and a little on Saturday morning. However, by 11amSaturday, the track was 75% dry. So my first qualifying session was quite dry. I was breaking in a completely fresh engine and transmission, so RPMs were kept very low. Frankly, there was not a lot of competition in my class, but, obviously there were many cars in the group 2 category – 47 to be exact.

I was 43rd of 47 when we lined up for the first feature race on Saturday afternoon. The fresh engine and new transmission felt great. And with new Hoosier tires, I felt confident this was going to be a fun race – chasing and passing many more powerful cars. Boy, was I right! I passed several cars on the very first lap. I was closing in on a VW Rabbit 1800cc and a Mazda GLC 1500 cc. They were having real close quarters race. I guess they didn't see me and I passed both of them. Snoopy and I finished 1st in class and 21st overall. So I had passed 22 cars in the 7-lap race. My fastest lap time was 1:52 which equaled my best time ever at Road Atlanta.
Sunday, the weather was much warmer and quite windy. I thought that would not be helpful for very fast lap times, but it turned out I was mistaken.
We lined up on the starting grid for the final feature race of the weekend. I was 21st. My main goal was to catch a pass a very quick Triumph Spitfire that I had been racing against in this group for the last 4 or 5 years. I know the young man who drives this car and he is an excellent driver. I have never been able to get anywhere near the #141 BRG Spitfire. He was 3 cars in front of me on the grid. At the rolling start, I held my position as the more powerful BMW 2002, MGB, and Porsche 356 pulled away from me slightly along the front straight at the green flag. And the very good handling Spitfire was able to pull away, making my task even harder. However, slowly lap after lap, I passed some of the cars I had mentioned – mostly through corner speed. One lap to go – white flag came out at the start/finish line. I was on the tail of the Spitfire. I just managed to east past him on the back section of the course. But he was only about 2 car lengths behind me. And, sure enough, he made a suicidal dive on my inside going into the turn 9 right-hander which meant I had to take a very sharp turn to my left to avoid hitting him. He was in front, but I was able to use my corner exit speed to draft up behind him. I was slowly getting closer and closer. If I was going to pass him, I would have to time it perfectly coming down the hill to turn 10. "Okay, now!" I said to myself. I pulled along side and passed, then "shut the door" through 10 and 10-A under the bridge, down the hill, then the checkered flag! 1st in class and 12th overall. My fastest lap time ever – 1:50.

The Spitfire came along side on the cold down lap – thumbs up! Well done! Great race weekend!
37 races, 34 first places. Great little car – Snoopy – 1967 Mini Cooper S!

Thanks, as always, to my sponsors that make all this possible:
The Brusnahan Clan of Alexandria VA
Midlands Motorworks


And thanks to the encouragement from my teammates – Zapata Racing, Nashville TN
and the understanding of my wife, Norree and our dog, Sherry, for putting up with my racing career!

Phil Wicks
Phil Wicks Racing
Phil Wicks Driving Academy
www.minidriving.com
314-330-6449