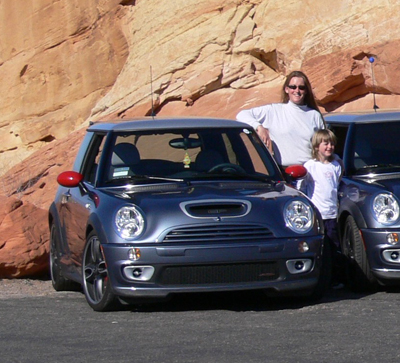 I was given the opportunity of MINI ownership by a traveling salesman
who frequented my work. The first time I saw her she was wearing a
license plate frame that read "Secure in my Manhood" and I laughed out loud in the parking lot! When he traded in his annual car - he sold her to me for the same price the dealer was giving him as a trade-in. SCORE!!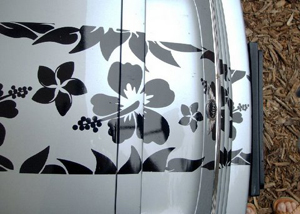 This is a photo of Trixie ('03 MCS) and I early in our relationship. This photo was taken in my driveway upon arrival back home in Hemet, CA from our whirlwind trip to Surprise, Arizona. This happened a couple weeks after AMVIV in 2005 where I missed the free installations
because I was running late (moi!?)
Mike kindly said "c'mon over" so I drove her 320 miles to Aesthetic Creations for a new custom stripe, and right back home again that afternoon. I was so busy taking the photos of the car - I didn't notice my toes until later.
We have had many happy adventures since, and a couple of hairy ones too.
some of my favorite moments in history;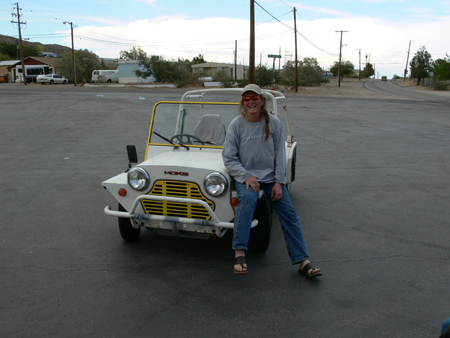 Mini Takes The States 2006 - I drove the Moke to Las Vegas (about 575 miles Round Trip. In July. 120 deg. F. ...ummmm blown head gasket anyone?) I met a few other MINI's on the way, and one gent kindly took a photo. Usually I am the one with the camera!


....and at AMVIV 4 in 2007 we had a fantastic turnout of 5 *count them* MINI Cooper GP's on our run out to Valley of Fire.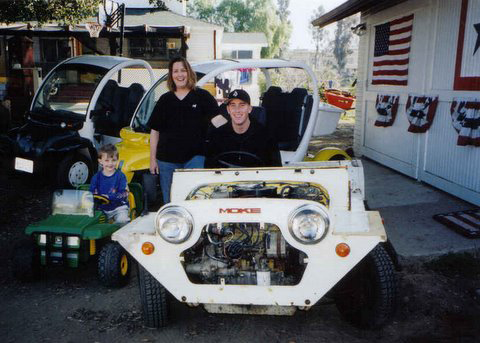 This is me with most of my favorite things - my 2 sons, & my Moke.
Also pictured - our all-electric fleet of John Deere, GEM car & GEM
truck... And my patriotic display. We lived in a 96 year old house on
2 acres in Hemet CA. This photo was taken in the summer of 2003 as
Mike was about to deploy again, this time to Kuwait where he helped
with the push into Iraq. He was stationed in 29 Palms and came home
to see us and spend his last day at home ... driving the Moke. Little
Brother Randy drove his John Deere as hard as he could trying to keep
up. At this time - the bucket seat was an actual bucket, and I had to
throw a few things back together so it would run - but as you can see
from our smiles... a 1/2 Moke is better than no Moke at all
This is a Phil Wick Driving Education Event at Buttonwillow CA
Trixie & I appear at 0:58.
Mike Spangler is here driving his Mr. Bean Car and, actually, the tall blonde from the Sears Pointless Lemons Race is driving in this one too!
I didn't pass tech for this one as all the damage from the accident *** :( *** wasn't resolved, but I had a lovely day spectating.
This would have been my 3d big track event of 2006.
I had a really great trip down memory lane this afternoon - remembering & revisiting car shows, autocross, HPDE, church car shows, microcar shows, road trips, road rallies, my kids first driving adventures and even international events where I have met many wonderful people - won a few awards and so far, made it back alive!! Viva Mini's

Sandia Schley
The Orphanage
Hemet, CA


'74 Moke ( Portugese) - 2002
'03 MCS -2005
'62 Austin Mini Cord (fiberglass) - 2006
'06 JCW GP #1605 - 2006 SOLD :(
'68 Riley Elf MKIII - 2007