Supercharged VTEC All-Wheel-Drive 2.0L Mini Clubman Estate!
Article Date:
Jul 23, 2010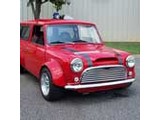 12 Comments
09/24/2013 @ 9:10 AM


Zero


Where did you get the fender flares

01/19/2012 @ 8:36 AM

Cheleker


For more details, see Issue 35 (Dec 2011-Jan 2012) of MC2 magazine. www.mc2magazine.com

04/18/2011 @ 11:09 PM


Mike


Amazing job! I can't see the rear half-shafts. Are they in place?

04/18/2011 @ 7:19 PM


Ben


I'm wondering where the parts for the rear end came from and how much of it was custom if any.

02/08/2011 @ 3:53 AM


1380YellowDevil


Very Very Nice, I Like the build and wish I could have one the same, Would have cost a few $$$$ tho.

11/28/2010 @ 6:18 PM

joriesmini


Who builds this? How much?

10/21/2010 @ 6:32 PM


gaine2


that is absolutely beautiful. i think i like the suspension photo the best.

09/19/2010 @ 9:55 PM


kidjmk


I am going to build a Vtec with a b16a. could you give me some hints or info that would help me. Where did you get the subframe from. kidjmk@cox.net

09/10/2010 @ 9:31 AM


daknow


great job! but is that originally a clubman? want to sell? :)

07/23/2010 @ 5:31 PM




Hi I must say to you beautiful ride well done, what is the size of the tires you got on it. here is my email address- info@mr-grean.com

07/23/2010 @ 5:10 PM


Judy


What will those tires cost

07/23/2010 @ 5:10 PM


Judy


What will it cost to replace those tires?