800-946-2642
Phone Sales (PST)
Monday - Thursday: 7:00am - 5:00pm
Friday 7:00am - Noon
Saturday & Sunday: Closed
On-Line Orders Open 24 hours, 7 days per week
Live Chat (PST)
Monday - Friday: 8:00am - 5:00pm
Saturday - Sunday: Closed

We have detected you're not on the correct site for the car you have selected! Click the
green button
below to go to the correct site.
Select the car you are shopping for:

Select
Save this car to my garage
Toni & Carson Rader
Written By: JL
Article Date:
May 09, 2011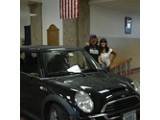 2 Comments
05/18/2011 @ 5:51 PM


Ali


DCMM is having a Scavenger hunt this Sat, details are on the website. You guys should come. You need a camera and a digital camera, it's a lot of fun.

05/11/2011 @ 3:10 AM

Nuklz


what a great idea (about the wind up key)...maybe we can get Mini Mania to develop an antenna to resemble a wind up key...i would buy one!
Related Websites

Visit us on:

Mini Mania
870 Gold Flat Rd.
Nevada City, CA 95959 USA

Orders: 800.946-2642
Technical: 530.470.8300
Fax: 530.470.8388