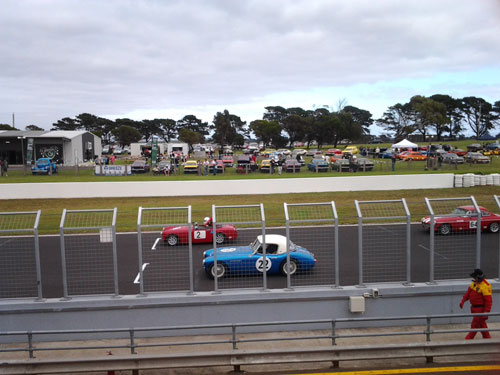 Vintage Racing on the Island
Phillip Island is the on the southern most tip of Australia and only 90 miles from Melbourne. The 38 Sq. mile island features spectacular coastal scenery, charming heritage and an abundance of Australian wildlife AND the most famous race track in a country that is 2.9M sq.miles (the USA only has 3M Sq. miles) with a total population of 21.8 Million people (California alone has 37.7 million). Phillip Island itself has a population of less than 10,000.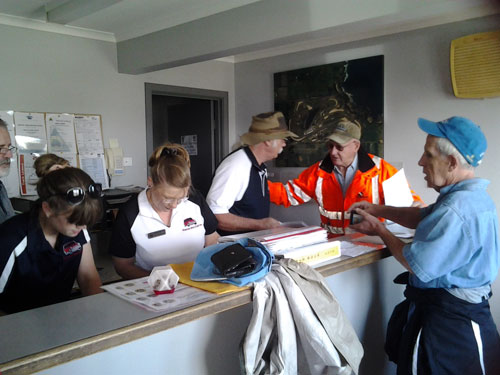 The event is organized by the Victorian Vintage Historic Racing Register of Australia. The VHRR was established in 1976 to promote Historic Motor Racing in Victoria. A number of events are staged throughout the year at various tracks. The Victorian Historic Racing Register "owns" the meeting and is responsible overall for the running of the event. They in turn "outsources" others to handle the more technical parts of putting on the event.
The Victorian Mini Club Inc., headed by Michael and Janis Holloway first became involved with the Historic Motor Races in 1996, the first year the event was moved from Adelaid to Phillip Island. VMCI members volunteer to do jobs such as Vehicle Recovery, Paddock Marshals, Startline Marshalls, Pre-Grid Marshalls, Paddock Marshalls, Observers working with the flaggies, Administration, race control plus various other assorted jobs.
What makes this race different is the volume of races - they try to pack as much track time into the event as possible, and to do this there is heaps of hard. So this is a meeting put on by a massive team of volunteers, - I think the only ones who are paid wages would be the Ambulance staff, and the PIOPS staff. (Phillip Island Operations run the track.)
The first road race ran on Phillip Island was in 1928, eventually know as the Australian Grand Prix. The original street circuit was often as long as 6 miles. In 1956 a new purpose built track was constructed 2 km outside of town. In 2006 a multi-million dollar renovation has resulted in a world class track hosting world class events including the 23rd Annual Phillip Island Classic.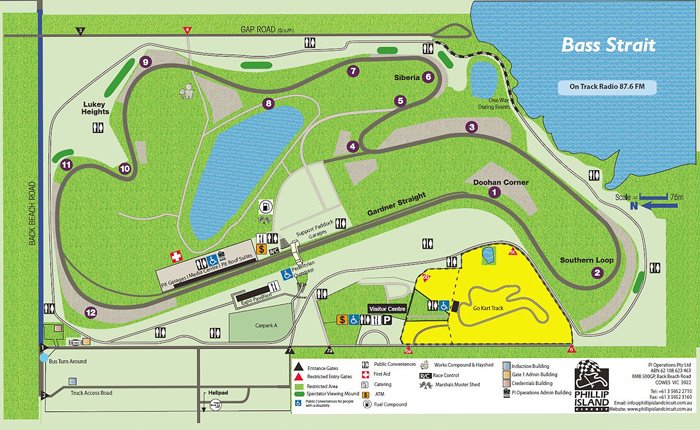 Today's track is almost 2.8 miles with 12 number turns. This very modern circuit has been manicured to an extreme with safety and great looks. The viewing areas are extensive with your choice of great grassy areas, bleachers or easy access to the pit areas. Each corner, fast or slow has good run-off area with modern gravel traps, it is hard to find a corner with what could be considered a imposing "don't make a mistake here" visual effect. Sure to be considered by all competitors as a high speed circuit it still includes a number of slow enough turns to keep it fun for all. While the circuit average speed in a MG Midget is around 80MPH, the slowest corners are still best taken in 2nd gear while the front straight is so long that you will run out of RPM (or guts) before it is time to slow down! The track includes it share of uphill and downhill corners as well as the typical blind turns. Just to 'one-up' most tracks the blind turn first goes uphill after a 4th gear straight, continues a hard blind turn as it goes downhill into the slowest turn on the track.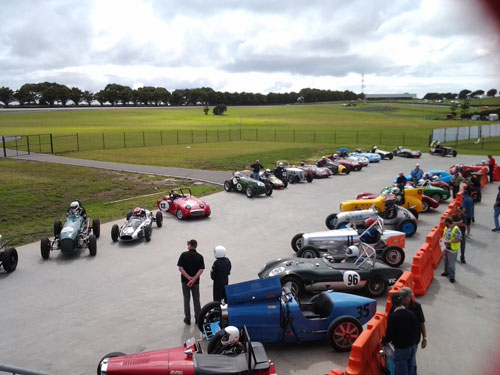 This year's field of cars and drivers totaled 575 enthusiasts that were as varied and keen about their cars and sport as any in the USA. The range of cars with that many entries was far different than we might see here.
The "Historic Touring Cars under 3 liters" included 13 Mini Coopers, EH Holdens, Ford Escorts, Datsun 1600, Porsche 911, Mazda RX2, Hillman Imp, Ford Capri V6 and a few more for a total of 58 cars to start the race.
The formula group included Fords, Juniors (front and rear engine) and Formula 3's. In addition to the number of Lolas, Van Diemens, Brabhams, Coopers, Lotus, etc. were a number of cars from Elfin and Palliser that traveled from the UK for this event.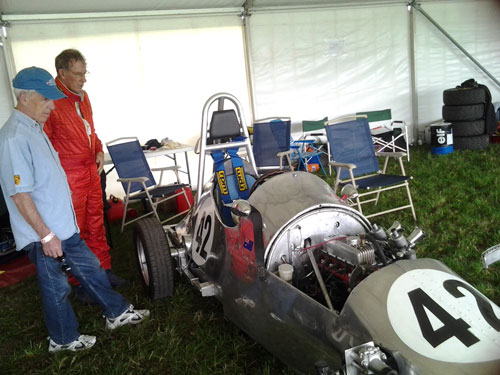 The Production Sports Cars Groups included cars up to 5,000cc but also dozens of MG Midgets, MGB, Alfa Romeo, Porsche 911, Austin Healey 3000, Aston Martin DB4, Triumph Spitfire with the large bore guys to include Corvettes and Shelby GT350s. Another grid of 58 cars resulted in fun time at the standing start!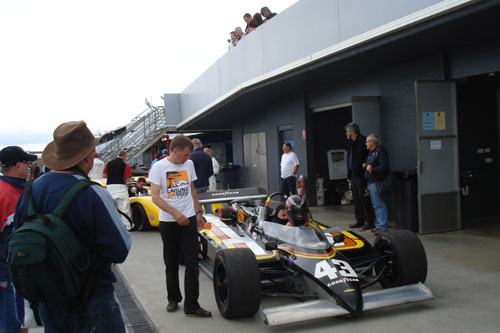 The Formula 5000 group was one of the featured races and the group included 33 very loud and very fast cars from around the world with Scott Drnek, Eric Haga and Harindra De Silva shipping their cars from the USA.
Group A&C Touring Cars included what seemed like an endless list of big sedans, everything from BMW M3, Holden Commodore, Alfa Romeo GTV, Ford Flacon, Holden Torana, Nissan Skyline to include a Jaguar XJS and a Toyota Corolla. Another large field and yet another bigger than life race.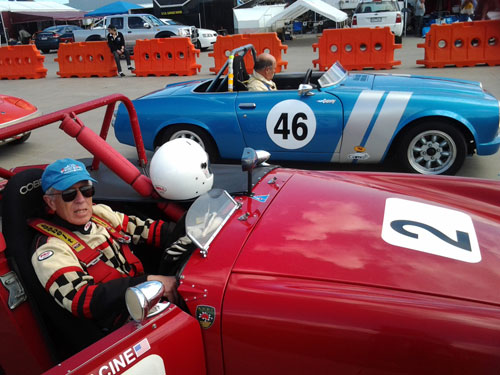 Group P,Q&R Sports and Racing group included later model open wheel Atlantic cars and mid-70's sports racers. A total of 6 cars were run with this same mixed group which resulted in some interested races on the track.
Group N Historic Touring Cars over 3 liters were the Australian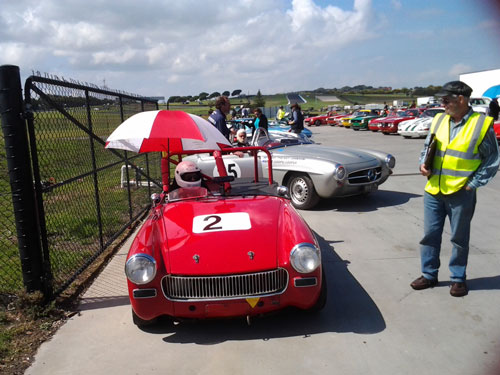 equivalent to our 'thunder alley'- lots of big romping V8, lots of close racing and pride in the mark. The Holden brand (General Motors of Australia) was very well represented with 15 or 20 "Toranas" (manufactured from 1967 to 1980) , while the rival Ford camp had a equally large group of Mustangs but not to be left out a number of Chevrolet Cameros along with a Porsche 911 and Nissan Skyline Turbo tried to keep everybody honest.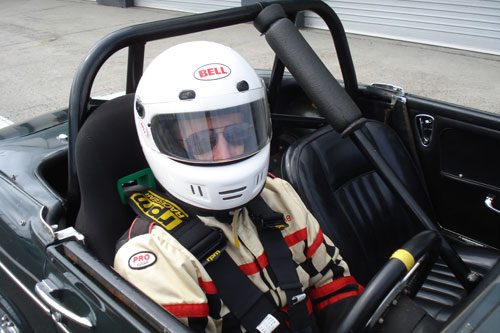 The Group "J,K&L" represented for me the real classic vintage racers with lots of specials, one-off and other classic historic cars representing the spirit of Vintage racing. The group "J" cars included Bugatti and Austin, the Group "K" cars Ford Special and even an Alvis, the "L" group had the biggest collection with a number of MG TC racers and specials, a couple Coopers, a Riley or 2, a Ford Zephyr, a Simca Special, Elfin Streamliners, etc. etc. etc. Fantastic group of real race cars- fun for all!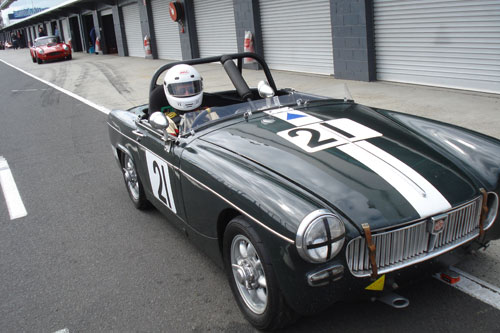 The final group of "Sc" Production Sports cars managed their own race simply because of the overwhelming turn out of these cars. The under 2 liter class was dominated by Alfa Romeo GTV's of one type or another, the under 3 liter class was by far mostly Porsche 911's with a Ferrari or 2 included to keep everyone on their toes. The Under 5 liter group saw a few MGB GT V8 mix it up with BMW CS Coupe and a Ferrari 365 GTC4. The over 5 liter group of ground ponders saw a typical Chevy vs Ford contest with the Corvettes taking on the De Tomaso Pantera contingent. You had to see this race to believe!
The format of the race week-end was indeed very exciting! The real spectator part of the event took place on Saturday and Sunday, but Thursday was a test day for first timers to this track and Friday was formal practice and qualifying. The track time on Thursday seemed more than adequate and with the 2 sessions on the track on Friday it was easy to be ready for the races over the week-end. Now you might think that with 50 car grids and 575+ entrants that racer within you would be disappointed but reality it is far from it. The format consists of 2 races per day per group for a total of 22 races on the track each day. And you might also argue that the format of a 6 lap race left something to be desired until you understand the fantastic thrill of the normal standing start system used most commonly in Australia. Not only does it provide great show for the spectators but the adrenaline rush from a driver's perspective and imperative that results from only have 6 laps makes for great racing.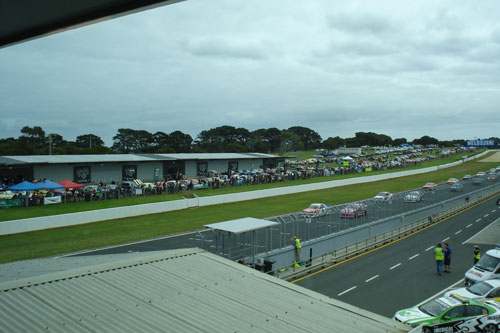 I forgot to mention that in 2011 the event was shortlisted in the top 6 contenders for the Historic Motor Sport event of the year by the UK magazine Octane. So should you make an effort to go- for sure, even as a spectator it is worth it!
I was very fortunate to be able to be able to "arrive and drive" to this event. I simply made a deal with a local guy that races a MG Midget and we agreed that I would come to Australia to race in an event or 2 and in return he would come to California and do the same in my Mini Cooper. You might consider this – it is a great way to have a great time and experience something new.