The morning of Monday, September 4, 2000, dawned cloudy and damp. It

wasn't raining, but had been and, as Dorothea and I made ready to continue

along the Lewis and Clark Trail, it was easy to envision what the Corps of

Discovery had faced in November 1805. Envision it we did, but that didn't

stop us from having a hot breakfast and setting off from Portland, Oregon, in

a warm and dry car.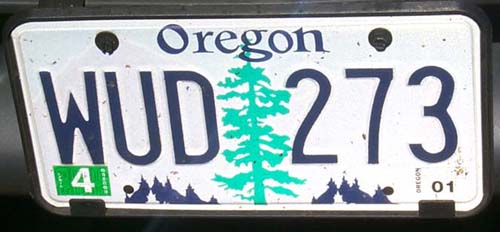 One more to complete the set (except for the missing
Nebraska).



Before leaving I had to rethink how to pack EG. I'd had three weeks or so

to perfect a good system. Suddenly, I had a person sitting in the passenger

seat instead of maps and books, and I had to find room for more baggage.

Dorothea didn't buy into my suggestion she ride on the roof rack, so we came

up with a better solution and the old bags were packed away. (I'm going to

get in trouble for that one!)



Dorothea, EG and I headed north out of Portland following Highway 30

along the Columbia. We crossed over the river at the Longview/Kelso area,

picked up Highway 4 west along the Washington side of the Columbia, and drove

to a beach near present day Skamokowa (skah-MOCK-away).



Lewis and Clark passed through the Portland area on November 4, 1805, as

mentioned in Part 25 and reached present day Skamokowa on the 7th. The name

comes from a Wahkiakum chief. It means, "smoke on the water," and is a

reference to the morning fogs typical in the area. And foggy it was when the

Corps landed on the 7th. They traded with Indians for fish, roots, beaver

skins and more dogs.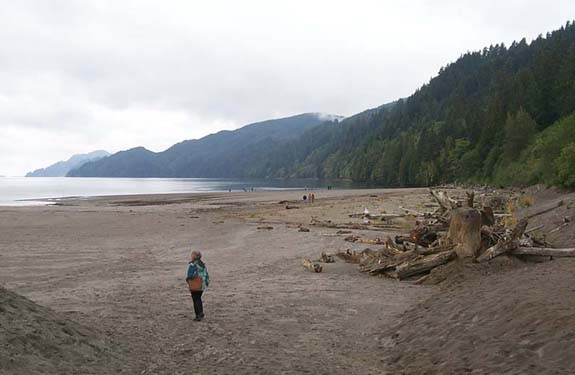 The beach at Skamokowa Vista Park looking
gray and bleak,
much as it must have looked almost 200
years ago.
It looks
more like an ocean beach rather a riverside.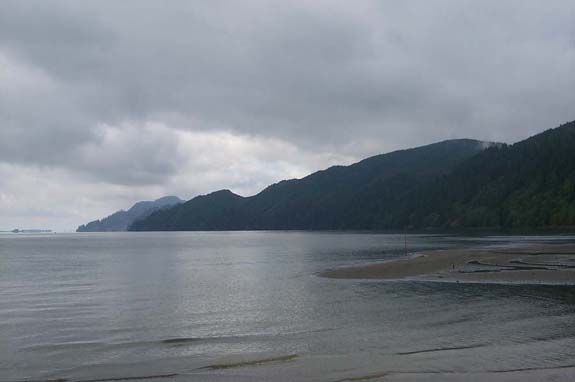 Looking further down the beach.



The men's moral was probably as low as it had been during the entire

trip. Instead of being happy that they were nearing their goal (tides were

more obvious and mapped landmarks like Mt. St. Helens had been spotted), they

were feeling low. Food was boring (woof?), the weather was horrible, their

clothes were rotting on their backs, lice were getting more use out of their

bedding then they were, and the forests along the rivers were so thick they

couldn't hunt.



At least Clark's outlook perked up later after leaving the beach. Near

present day Altoona, he thought they had found the ocean. Clark noted in his

journal, "Ocian in view! O! The joy!" He wasn't seeing the ocean.

Unfortunately, they were still 20 miles from the mouth of the river. And it

would be a hard, miserable trip that would take the Corps 9 days to complete.



We continued along 4 to 101 then turned south and ended up at a point of

land called Cape Disappointment and at Fort Canby State Park. By the time we

arrived the sun had made an appearance and the view from above the ocean at

the Lewis and Clark Interpretive Center was stunning. The center is worth a

stop, although not quite up to the quality of a couple of earlier ones. Clark

and some of the Corps did some exploring in this area from a campsite they'd

established along the river between present day Ft. Canby and the Astoria

Bridge. They found interesting creatures; including, a California condor -

which they shot, of course. And the entire Corps continued to have trouble

with items being stolen. Relations with Indians along the Columbia remained

tense the rest of the stay and it is a wonder that the two groups didn't come

to blows. (Fighting did break out later on the return trip, but you'll have

to read about that elsewhere.)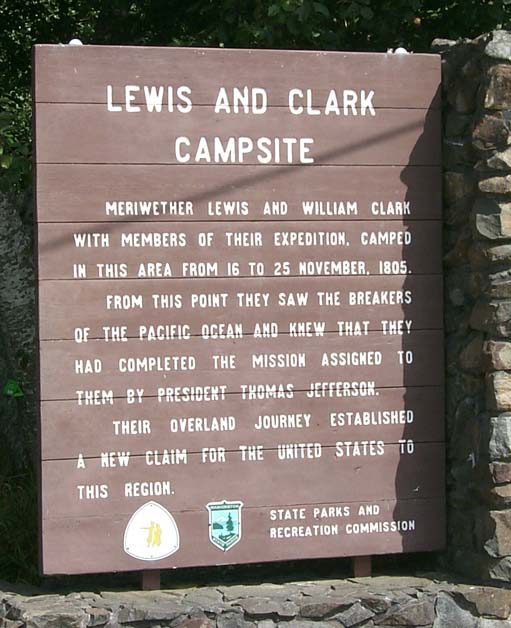 There's not much to see, but The Corps of
Discover spent several days
around this area before crossing
to the south side of the Columbia River.



About November 24th, a vote was taken (both "slaves," Scagawea and York,

participated) and it was decided that of the various choices, the Corp would

move to the south side of the river to look for a place to hunker down for

the winter.



Dorothea, EG and I also moved that way, crossing south over the wide

Columbia at the bridge into Astoria and drove the short distance further to

Fort Clatsop National Memorial. Lewis and Clark spent 10 very miserable days

east of the Astoria area while scouting for a place to build a fort for the

winter. Finally, on December 7th they moved southwest to a suitable site and

built Fort Clatsop where they were to stay until March 23, 1806.



The Park has a nice, but small center, and a very good reproduction of

the original fort. You can wonder in and out of the small rooms and quickly

get a feeling of what it must have been like to spend a rainy winter under

these miserable conditions. Fifty feet by fifty feet, the reproduction is as

close to the original as could be made and was one of the Lewis and Clark

high points of my trip.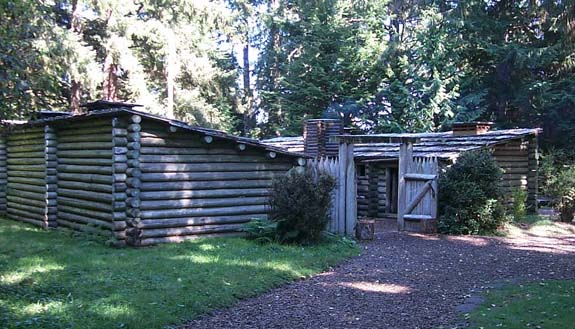 An incredibly realistic recreation
of Fort Clatsop.



At this point we left the path of the Corps of Discovery and headed back

across the Astoria Bridge into Washington. Maybe I'll follow them back to St.

Louis some day.



We followed 101, 107, and 12 through Olympia and back to I-5 which lead

us home to Seattle. The 101 portion was a good drive (as it is all along the

West Coast). The rest quickly became boring and anticlimactic. Sure, I was

glad to get home, but it was hard to leave the traveling behind. And there's

so much more country to see.



After a short stop near the house to top up EG's tank we arrived home and

parked her among the other Minis in the drive. It was 7:30 at night. The

final odometer reading was 8,056.5. We'd traveled 362 miles that day and had

completed the trip from Miami in 6,174 miles.




EG at her new home in Seattle, a long way
from Miami
and a much farther way from South
Africa.



Thus ends the tale of the Wolseley Across America. For the two or three

of you who managed to follow the entire route, I hope you enjoyed the trip. I

certainly did. And I hope I have inspired you to take such a drive yourself

one day. Make the time. Look for excuses to go rather than excuses to stay

home. If you can't do it in a Mini, take anything. You'll thank yourself.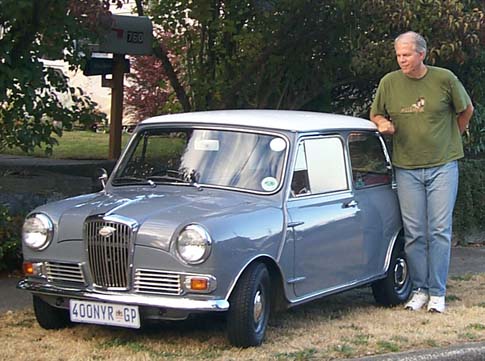 Me thanking EG for the good
ride.



In Part 27 you'll find a lot of boring information incidental to the

Wolseley Across America trip. Read it if you wish. If you are of a mind, more

information can be supplied. Contact me at [email protected]



Before I close, I would be remiss if I didn't thank all those who

supported my little adventure. I'd also be taking a big chance in trying to

name them all. There were so many, I know I'd leave someone out. So, thanks

to those Mini people along the route. Your support was essential to the

flavor of the trip. Special thanks needs to be made to Ryno for talking me

into buying a car I didn't need (and am glad I have) and for talking me into

coming to South Africa to pick it up; to Dorothea for understanding the

necessity of the trip and supporting it; and to Don and Hugo at Mini Mania

for supplying the web space so that I could share with others.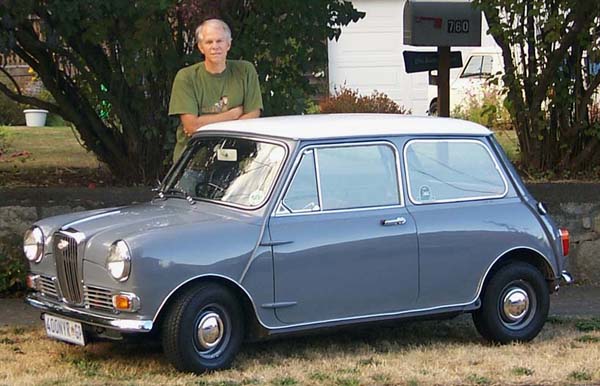 EG and I thanking all those that helped make the
trip possible.