The MINI Cooper may be one of the best city cars around, but it has limitations for parents. The new MINI Cooper Clubman and MINI Cooper S Clubman take important steps to fill the gaps, resulting in an excellent choice of cars for urban parents.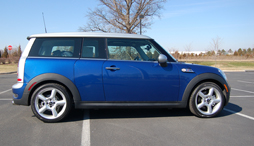 "Cool MINI, Daddy!" says 3-year-old Evan. "This is a good car for kids" adds his 7-year-old brother Michael. Both boys had just had their first ride in a new MINI Cooper S Clubman — the latest addition to the MINI family which has just gone on sale in the United States. We currently have a MINI Cooper S, which I adore, but I'm always on the lookout for the perfect car for urban parents. While I'm not ready to part with my car, the Clubman may be as close to car nirvana that urban parents may hope to get.
To be among the first to test drive a Clubman, the boys and I journeyed to MINI of Sterling where Ahmed Shaker, a MINI Motoring Advisor (MINI does not have "sales people", it has "Motoring Advisors") was waiting with a "Lightning Blue/Silver"-colored MINI Cooper S Clubman. Shaker and I quickly installed a Britax Galaxy convertible child seat and a Britax Bodyguard booster seat. The Clubman has both LATCH and a built-in anchor for the Galaxy's tether, so installation went without a hitch. The boys climbed in through the Clubman's passenger-side third door and away we went.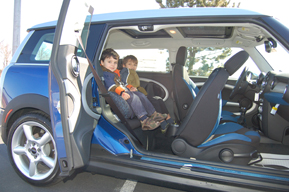 While I love my MINI, it has some significant disadvantages as a family car. One is the lack of storage space. You can fit an umbrella stroller and a diaper bag into the boot, but that's about it. Second, any backseat passengers had better be fairly small because legroom is of a premium. As the hatchback's new big brother, the Clubman was designed to address these issues. Almost 10 inches longer than the standard Cooper, the Clubman adds legroom to the backseat. More importantly, Clubman's new "club" door just behind the passenger's door makes for easy backseat entry and egress. The Clubman's boot has 9.2 cubic feet of storage space with the rear seats up. Fold the seats down and 32.8 cubic feet are available. By comparison, the hatchback has a miserly 5.2 cubic feet of storage when the seats are up. To access the rear storage space, the Clubman provides split rear barn doors that have to be experienced to appreciate fully.
But even with the added size (and accompanying weight), the Clubman is still a MINI. The quickness and nimble handling that MINI-drivers expect is still there. The quirky styling that gives the MINI its fun-loving character is — if anything — even more pronounced. Driving in DC is frequently much like maneuvering around an obstacle course. Swerve to left to avoid a taxi that has stopped abruptly to pick up a fare, brake for a bicyclist appearing out of nowhere into your lane, back over to right to get around a bus turning left, and then a quick right onto a side street to look for parking. A lot of cars can do that, but the MINI looks good and feels good doing it. And then it does one more thing — it easily fits into the smallest of parking spots. What's not to love?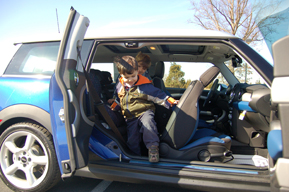 Of course with kids in the car, safety is of utmost concern. MINI approaches safety from a different standpoint than many. The best way to survive an accident is to avoid it in the first place. The Clubman comes standard with what MINI calls "alphabet brakes" that combine ABS (anti-lock braking system), EBD (electronic brake force distribution), and CBC (cornering brake control). These systems combine to achieve safe and efficient braking that adapts to the car's load, speed, and bearing. The Clubman comes standard with Dynamic Stability Control (DSC) which electronically modulates wheel spin and braking to maintain control of the car when there is a loss of traction. But, some crashes are unavoidable, so the MINI Cooper Clubman's body has been strategically reinforced for torsional rigidity to protect the passenger compartment. A total of six airbags adds to passenger protection.
The MINI Cooper Clubman is equipped with a 1.6 liter engine producing 118 horsepower. For those who want more power, the MINI Cooper S Clubman comes with a turbocharged 172-horsepower engine. Both models come standard with a 6-speed manual transmission. A 6-speed automatic transmission is optional. As would be expected from cars this size, fuel economy is good. The standard Clubman gets 32 combined highway/city miles per gallon, whereas the performance-minded S gets 29.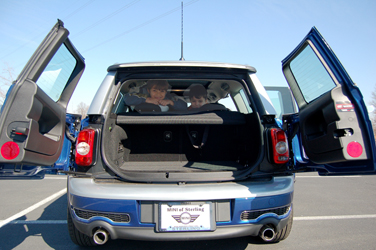 Choosing a MINI is a bit like ordering lunch at Chipotle, where choosing between a burrito, burrito bowl, and taco is just the beginning. No two MINIs are likely to be the same. As a visit to MINI's online configurator demonstrates, choosing between the MINI Cooper Clubman and MINI Cooper S Clubman is only the first step in creating your personalized automobile. During the five following steps, you choose interior and exterior colors, select optional packages (such as the cold weather package that includes heated seats), choose performance accessories such as a sports suspension or larger wheels, and pick from optional add-ons of all sorts. MINI says there are 10 million possible configurations. Those overwhelmed by the choices can simply make a visit to a friendly MINI Motoring Advisor such as Shaker for assistance.
With all that it has going for it, its hard to find anything wrong with the Clubman. But, alas, no car is perfect. One deficiency with my MINI that has not been rectified by the Clubman is the limit of two back seat passengers. While this is obviously a constraint resulting from the car's small size, it means that with both my sons in the car, there is no room for a friend. Had the Clubman found room for a third seat, car nirvana for urban parents would have been achieved. But for that, the Clubman is a laudable combination of style, practicality, and fun.
[cite]