Amanda Mullins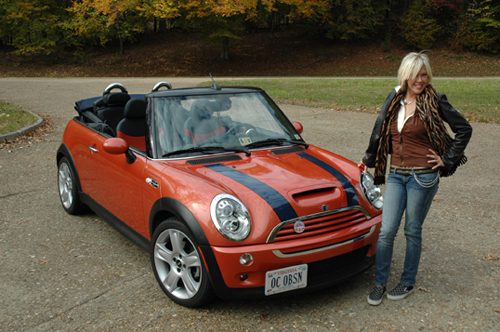 Name: Mandy Mullins/ My Cars: Orange Crush 2006 Cooper S Cabrio and Sparks 72 Austin Mini
City/State: Yorktown, Virginia
Car Club: Hampton Roads Club MINI
Accessories/Mods: Orange Crush: Alta Intake, Borla Exhaust, Alta 15% Pulley, Alta Short Shifter, Whalen Knob and Konig Feather Wheels. Sparks: In resto
Auto Event History: Guiness World Record Most Minis in a convoy, Mini Pride Run, Multiple motoring adventures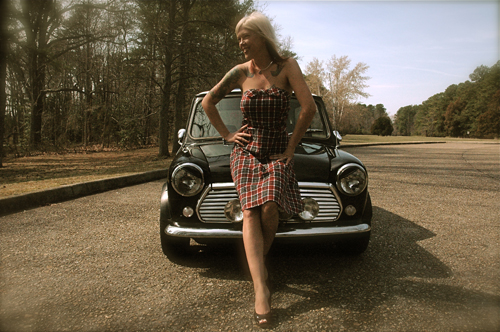 My love of Minis started while I lived in England. When I first saw Sparks, I knew I had to have her. She was finicky, but for some reason that made me love her more. I loved her so much that I brought her back from England with me. We met this crazy little group of Mini/MINI enthusiasts that was HRMINI and started hitting all the local shows and events. I knew it was time for a new car so I searched and searched for something to drive on a regular basis, as I wanted to garage Sparks to give her a much needed restoration. I drove by the VW dealership and thought the beetle might be for me.

Sat

in in once and said nope, lets go to the MINI Dealer! When I walked in I knew I was home. I couldn't wait to get my hands on that wheel and test drive this cute yet devilish looking car. I got in and smiled as I drove by waving to my husband. Little did he know that moment changed my love for driving forever. The MINI had me at first drive to say the least.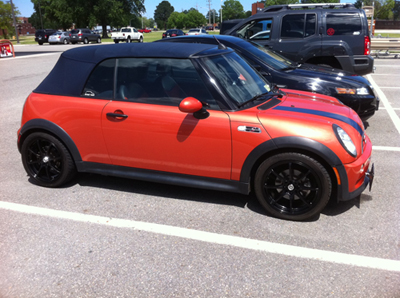 That day I knew that I had found the car for me. I ordered a Hot Orange MINI Cooper S Cabrio and couldn't wait for her to arrive! The day came on Aug 7 2006 when my MINI finally arrived! The whole drive home I couldn't take the smile off of my face. The sound of the burbles and pops and the whine of the supercharger, oh what an emotional feeling!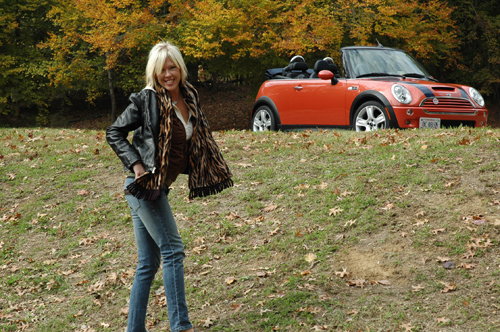 To this day, years later, I truly can say that I love my MINI! She makes me feel happy even when I'm in the worst of moods. Sparks now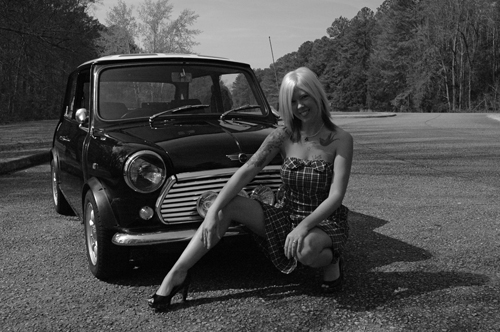 belongs to my husband who is painstakingly restoring her. Having OC and Sparks allows us to appreciate the heritage while enjoying the evolution! There is nothing like our Mini/MINI and I can only say one thing "Face it, NO other car will do"!

Mandy
Written By: JL
Article Date: May 13, 2011


Back
7 Comments
05/19/2011 @ 12:03 PM


poppie


You look better than all the minies put toge

05/20/2011 @ 2:14 PM


Obehave


Hey Mandy. Takes a lot to get me on FaceBook. ; 0 Give everybody a hug for me.

07/20/2011 @ 6:36 PM


Patrick In La Crosse WI USA


WOW With A Capital WOW. I may not be worthy of your recognition, but you look amazing next to your Mini. Although, some could say that of me if they were sober enough to talk! I have a 2010 S Dark Silver, a contrast to your Speeding Ticket Red Ragtop and Legs for Days, I never sat in an original Mini as I am 6'5" tall and my legs don't detach...but I'm devistaingly handsome I might add :-P Thanks for posting.......I'll send you a pic if you drive up and let me buy (or make) you dinner. It is beautiful here...the bluffs, the river. the twisties, and a mostly part time law enforcement community that pulls over pickup trucks, not MINI's doing a Hundred MPH or so...which is my minimum on my commute........X O ........Patrick in La Crosse

07/24/2011 @ 6:43 PM

MIKExXxSTONE


Def makes me a proud MINI owner

08/24/2011 @ 7:38 PM


BertieorBirdie


Super jazzed about gttieng that know-how.

11/10/2012 @ 9:48 AM


Lonitra


Your's is the intelligent apporcah to this issue.

02/27/2013 @ 2:46 PM


rocky


You're hot!!!