Imagine winning a Mini Cooper High Performance Driving Experience program where you will ARRIVE & DRIVE a Mini Mania Cooper S!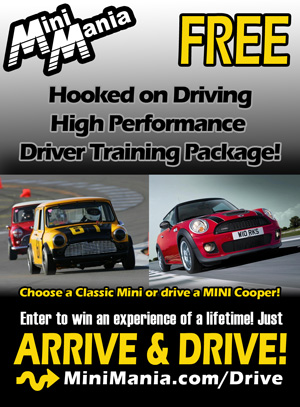 As you arrive at the Thunderhill Raceway at Hooked on Driving you'l receive a warm welcome from Don Racine, Owner of MINI MANIA. Throughout your action packed day, Don will personally guide you through the program where you'll learn how to EXPERIENCE a MINI to it's MAX!
Mini Cooper enthusiasts say, "It's the DRIVE of Their LIVES"!
After Hundreds of entires to this unique adventure we are excited to announce we have 8 finalists:
From: MiniRuss
I really enjoyed this driving information. Over the years for my business/work I have driven over 1 million miles. Yet, when it comes to really handling a car, I know I need to learn a lot more. And the more I learn about driving the more fun I have driving a car. Let's go back 30+ years, when I first drove a classic Mini Clubman in Germany! I have never gotten over that joy. Now I own a 62 Morris Mini and a 72 Mini Pickup (under construction). Present day, I'm getting more motivated toward auto cross, with my first experience in my 2005 MINI at MiniMeetWest2010 in Penticton, B.C. It was great fun. To drive and learn at this event would be the opportunity of a lifetime. Let's clear the calendar to go!
From Aeb142006
Ive always wanted to take my mini to a track but ive never gotten around to doing it. but a performance mini on a track thats a dream come true just the thought of it is making me drool. I can only imagine what a performance mini drives like compared to my stock 998 with original suspension. now that ive said that i probably should replace that sometime soon.
From Jeff Causey
I would love to do this HPDE. Throughout the 90's, I spent a lot of time on my PC doing sim racing online. It was pretty realistic (as realistic as computer racing can get I suppose) and in order to setup our "cars" right, I did a lot of reading up on performance driving, suspension setup, etc. The articles linked to here remind me of that time. Since owning my MINI, I've been wanting to get to an HPDE. Alas, the demands of a busy life conspire to keep me from being able to really commit to that. I was fortunate enough to attend an event sponsored by our local MINI dealer. Not really an HPDE, but we were allowed on the track "at speed". I was fortunate enough to draw a session with an instructor. Based on the feedback,
I guess all my "book learning" of the 90's had paid off as he was impressed with my starting base skills. The best part though was getting to translate that into actual driving on the track and getting the benefit of my instructor's wisdom and knowledge. In those few minutes of instruction, I'm sure I picked up more valuable driving knowledge than I did in an entire decade of reading all about it.
Thanks for making this opportunity available to MINI enthusiasts! I would love to be selected. If not though, congrats to whoever does win this - have a great time!!!


From: ClassicJim
Would be an absolute blast to drive the track in the car that has made it all happen . About 40 years ago I noticed a yellow mini in a gas station in westmont Ill. I stopped and asked about it and the rest was history. You have the car now! I was bit a few years before that by a mini that went by the name( purple people eater ) Dallas Texas Richard McDaniels at overseas Motors ( you have that car also ) sold us alot of parts for our 850 autocrosser
From Ace
I would love to be considered for the driving experience! I have so many dreams about upgrading my Mini into a vehicle worthy of doing track days. I have so much to learn. This would be a fantastic opportunity. Congratulations to whoever wins!
From: Pete10e
I bought my first Mini, a Moke, in the USVI in the '60s. It was a resort fleet car and had lost an argument with a tree. I got it for three hundred bucks, pounded it into some semblance of shape, painted it pink, by hand, and at the behest of my then girlfriend, welded a tin flower box onto the back bumper which she then filled with plastic tulips! Since those days, I've owned many exotic vehicles...but I can think of none that were more fun to drive than that Moke! I miss her and wish I'd kept her instead of the girlfriend! Now, pre-Beachcomber concept, I decided I needed to build a Moke for my daily ride in Baja...so it's getting a 200 horsepower Nissan Pulsar SR20DET GTi-R GROUP-A rally engine, turbocharged, quad throttle induction, and intercooled all-wheel drive 4-cylinder along with Pulsar running gear and 5-speed OD...plus the biggest Brembos I can fit behind the 34.5" tall, Mickey Thompson 16" Baja MTZ WIDE radials. It's still only ten feet long but now, instead of being four feet wide, it's almost eight! Wider footprint aside, I figure I NEED to drive it to my capability if not its own...and learning to hang onto a 200+ hp machine that weighs barely 1200 lbs makes it sorta mandatory that I do it well. This thing should eat Ferraris and Lamborghinis for lunch, not to mention my innocent-looking 180 mph 911! This would be an awesome start! Next? The Baja 1000, perhaps? Dakar? London to Sydney? ...HEY, I'm only 71...!!!


From: Johndej
Great article! My son is currently working on getting his driver's license so some of the points were good reinforcement for me, as well as some things that I need to revise. We've had an ongoing discussion about hand position on the wheel. I realize now that he is right, and I've been keeping my hands too high. I'm going to have him read this article as well. Good stuff! I'd love to have a chance to improve my own skills as well so please enter me.

From: Michael Kotowski (Rosebud)
I viewed all of the links associated w/ the Thunderhill driving school. Sounds just what I've been looking for to improve my skills at driving my classic Mini that's has been "built" WAY over my abilities. Please sign me up for the contest.
Regards, Michael Kotowski (Rosebud)

Winner will be notified shortly!
UPDATE 11/5/2010

And the selection is now complete
We are excited to announce that Russ Hansen will be joining us at Thunder Hill!
More Details as they become available!