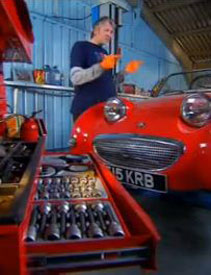 For you Wheeler Dealer fans, and for those of you who may not be familiar with this UK TV series, here's a look at Mike Brewer and Edd China working to resurrect a British classic: The Frogeye Sprite. Now, we may term it a Bugeye here in the States but whichever moniker you choose, it's one great little sports car. The car in question is 1959 Austin-Healey Sprite. The original 948 engine had been swapped out for a meatier 1275cc power unit. The paint was in need of serious work and the brakes were a bit dodgy.
Mike has trouble locating a Bugeye in his price range at first but then tracks down the 1959 Bugeye at a local dealer and manages to drive away with it for £4,500 ($7,155). He next brings the car to Edd, the shows' mechanic, to bring the Sprite up to date with a front disc brake conversion, a couple of seat trim kits, and preps the car for a full body re-spray changing the color from red to Iris Blue. Mike has a local shop repair the tired aluminum trim pieces while original steel wheels are swapped for Minilite style alloys. Finally, the Sprite is sold on for £8,600 …a profit of £1,125 ($1,789).
Not too shabby, boys.