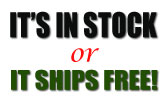 In Stock or it Ships Free!
At Mini Mania, our goal is for you to have the best shopping experience possible. So we've decided that when we're occassionly out of an item that you need, we'll go ahead and pay to ship that item to you as soon as it comes in! Simply shop for what you need, any items that we currently do not have on hand will show a "qualifies for free shipping" icon in the shopping cart. Those items that we do have on hand will ship right away, the rest will ship out at no charge for shipping when we receive them. This way you get the best of both worlds! Some exclusions apply, see below.

Exclusions do apply for products that require special handling. If your order contains ineligible items, you will be charged shipping and handling fees for those items only.
If you qualify for FREE Shipping but your order also contains one or more ineligible items, you'll be charged shipping fees for those ineligible items.
Excludes items that do not include a statement that they are eligible for FREE Shipping on the product page. Also excludes certain oversize items, including Freight and Overweight Shipments that are not included in this special promotion.
Free Shipping offer can't be used together or in conjunction with any other offer including a Price Match or any other special promotions.
This offer applies to U.S. delivery addresses in the 48 contiguous states. Not valid for Hawaii, Alaska, Puerto Rico and Canadian Orders.
Valid on new orders only. Discount cannot be applied to any previous order(s) or be combined with any other coupons, discounts, adjustments unless otherwise noted.
We reserve the right to limit quantities sold to each customer. Please check your minimum order amounts and discount details.
We reserve the right to change or discontinue the FREE Shipping special at any time.