International Connection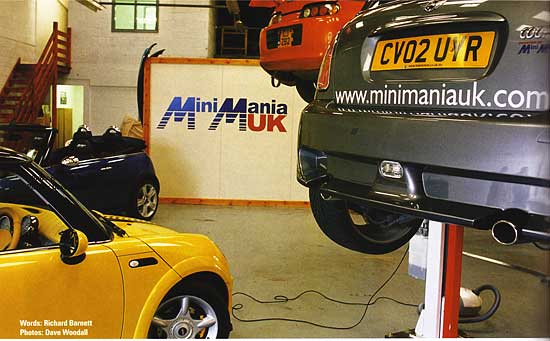 Mini Mania is one of the most successful tuners in the US. Now the UK division is making waves on this side of the pond as well.
Running a business is like making a good cake: you need to get all the right ingredients and bring them together to create a first-class result. With a business those ingredients are the right type of people with particular skills and enthusiasm, and Mini Mania UK is all about a successful mix of people working together and sharing an enthusiasm for all things Mini.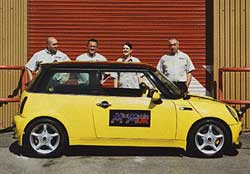 The business, which is affiliated to Don Racine's US-based Mini Mania, has only been running since October 2004 and already the company is supplying parts across the world. With Adam McCollin as managing director and Chris Dee and Mike Graves as directors, Mini Mania UK has already made its mark on the Mini scene. Janine Evans runs the admin and sales side, while senior technician Martin Mumford looks after customers' cars and develops new styling and tuning products.
The company is based in a modern industrial unit in Cwmbran, a town that's best known for steel manufacture, Mini Mania UK is as keen to take on routine Mini work as it is to turn customers' cars into fire-breathing tarmac terrors, but for those who do want to go faster there are plenty of products - and the expertise to fit them - at the company's premises. The prices are very competitive, and the firm says it can undercut the dealer when it comes to servicing. For example, an oil service is priced at £75 (instead of £100 at a dealer), Inspection 2 is £175 (£243 at a dealer) and a brake fluid change costs £60 (f90 at a dealer). Mini Mania UK is also offering Stage 1, 2 and 3 kits plus pulleys, cylinder heads and exhaust systems.
Yellow Mini Cooper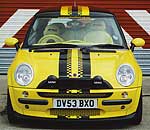 You really can't fail to notice the Mini Mania UK Cooper, which features that 'sunglasses on' yellow leather interior plus the firm's twin exhaust system and cold intake system. We took it for a spin around the block and there are two things you can't fail to miss: the interior, and the deep noise of the exhaust.
That system transforms the sound of the engine no end, giving a more healthy tone than the factory-fitted option. Despite this it probably wouldn't be tiring on long journeys, and it's not loud enough to generate unwanted attention. The interior is beautifully trimmed, and there's no questioning the quality of the leather or the workmanship. What's more, you don't slide out of the seats when you take a roundabout quickly...
"We have two ramps installed for working on cars and we're about to add a third one," says Chris. "We want to do everyday servicing but on top of that we want our customers to know that we can properly set up a car, for example. All too often a workshop will lower a car and that's it, without any concern for the suspension settings." Chris also believes Mini owners are very clued-up when it comes to new products and their prices. They're likely to shop around on the internet, looking for the best deal. "They're certainly smart cookies and they've got high demands, but the Mini Mania name is definitely helpful for us," he says.
The company is experienced at responding effectively to its customers' high demands. "Our ethos is to provide sound advice - so much on the internet is superficial and incorrect," Mike says. "When it comes to bhp, quoting figures needs to be done by taking other criteria into account. The customers want more and more power but we say that there will always be a knock-on effect. We'll try to explain the torque band, for example."
So how did a business based in South Wales tie-in with a company with its home in Nevada? According to Chris, who along with Martin worked in a BMW Mini dealership, the Welsh team wanted to link up with a company that had "product experience". That led to them going to Nevada and putting a deal in front of Mini Mania supremo Don Racine. The combination of Chris' Formula One team experience (with Arrows and TWR) and Mike's financial skills, overseen by Adam, was more than enough for Don and Mini Mania UK was born. "I look after the technical and workshop side, and also identify new products," Chris says. "I've still got my Formula One contacts - like carbon-fibre specialists - and I can call guys who can manufacture anything we want."
But even if a customer just wants a service on their car, Mini Mania UK is pleased to see them. "We want to offer a personal service, one that's better than you'll get anywhere else, and we're happy for customers to come into the workshop and have a look around," says Chris. "These days people don't look under their car, but it's useful as we can show the customer if there's any work that needs doing. We have a good rapport with Mini owners, and there's no single job we can't do here. We've invested a lot in the correct tools, which aren't cheap, as we're prepared to show our commitment." The company is looking to offer a complete Mini ownership package, which includes Mike working with insurance underwriters. "We aim to keep them abreast of modifications," he says, "and because we encourage them to talk we've had a lot of success."
Grey Mini Cooper S
We also tried Martin's Cooper s, which has been mildly tweaked. It's been fitted with a Mini Mania UK air intake system and supercharger pulleys plus it's had a remap, along with a shortshift kit (for quicker gearchange throws) and a dual-exit exhaust system. The result? A civilised car that's quicker than a standard model, but lacks the brutality of some more highly-tuned examples. Pick-up through the gears remains smooth, and the short-shift kit offers more positive (and quicker) gearchanges than the standard set-up. There's also very little extra sound from the engine and exhaust. In short, this is a good first step-up from the standard product.
The Mini Mania UK team have 1300 cars on their database, of which just 29 are 5 models. Mike also points out that 60 per cent of those 1300 cars are driven by women. "There's possibly a different psyche with the female owners," he says. "Men want more performance, while women do seem to like our centre console and glovebox organisers." Talking of styling, Mini Mania UK has recently retrimmed five cars with leather. We checked out the company's yellow Mini which now sports dramatic matching leather seats. "When people see the quality they're getting for the price they'll see that we're competitive," says Chris, who is currently securing a deal for carbon-fibre and maple wood dashboards. The company is also offering the latest bumpers and is set to offer a range of wheels in the near future. Chris says he could fill the entire workshop with them, but that even with a massive offering customers will want something else. Because of that, Mini Mania UK will offer the Wolfrace range on the 'good, better and best' principle of increasingly higher quality products.
As the product range gets even bigger, the team expect more customers from further away to drop their cars in. They're already getting cars from London, Leeds and Leicester because Cwmbran's easy to get to via the M4, M5 and M50, and there's interest from even further afield too. 'Around 30 per cent of our business is from overseas, which is more than we expected," Mike says. "We're sending parts to Delhi, Australia and the Cayman Islands." Much of that demand is generated by the website, www.minimaniauk.com, which went live last December. It's updated every day and gets around 1.3 million hits a month. "We know Mini owners are looking everywhere for new products and price comparisons," Mike says.
Meanwhile, Martin's working on several new styling and tuning products, which look likely to make Mini Mania UK even busier. We can't see anyone at the company complaining though...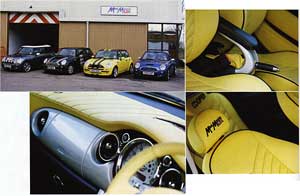 Mini Mania UK's impressive premises at Cwmbran stocks only the best products, and its range is expanding all the time. As you can see from the yellow leather interior below, the company's retrimming service is well worth the outlay. (Click to view larger image.)
Article reprinted from Go Mini Magazine, July 2005
Words by Richard Barnett
Photos by Dave Woodall
https://new.minimania.com/articlelist/New_MINI/News/Mini_Mania