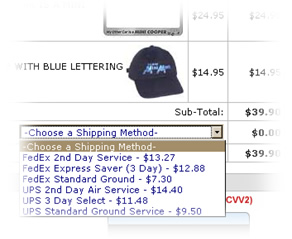 Mini Mania is pleased to announce that shipping quotes are now available on-line at minimania.com.
During the checkout process, customers now can view FedEx, UPS and USPS levels of service and shipping amounts in a convenient drop down menu. This feature enables customers to choose the carrier and level of service that best meets their needs. Customers can now take full advantage of the largest inventory of parts in the USA for the Mini range of models and know exactly what the total cost is including shipping before completing check out. Because of the wide variety of items we handle, a few parts, such as truck freight and certain oversized items will not quote shipping.
Mini Mania is proud to be the only "Full Service" 24/7 shopping experience available for the Mini owner. The Website contains thousands of pages of technical information and installation instructions, a 350+ page complete searchable catalog, a community forum and most importantly a 10,000+ part number inventory of Mini parts. Our parts inventory is the largest in the USA.