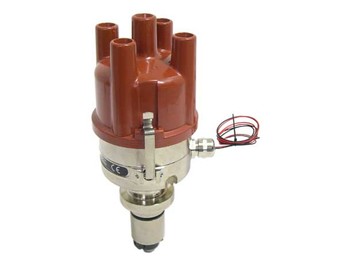 The last distributor you will ever need for your car is now available for your Mini or Mini Cooper S. The 123 Distributor designed by www.tdcperformance.ca is a revolutionary design that allows you to have the exact ignition curve that you need for your application, whether you have an 850 or a full blown 1275cc engine. The all new fully electronic billet distributor has been programmed with 16 different advance curves that are easily switched. The 123 Distributor is available for either the A or A+ application, with or without vacuum advance. The 16 different advance curves are based on the original factory Lucas distributors as used in the many different models; as long as you always use either an A or A+ power-unit, the 123 Distributor is the one and only distributor you will ever need. The 123 Distributor is fully electronic and thus not only does it have electronic (non-mechanical) points but it also has an electronic microprocessor controlled advance curve – 16 of them in fact. Most mechanical distributors will show a deterioration of the advance curve after only a few years. The 123's electronic design results in both a fantastic selection of curves and a curve that is not subject to the wearing of mechanical components. The 123 Distributor is a direct replacement for any Lucas distributor. Negative ground only.
Download Installation Instructions in PDF format (152 Kbytes).
Watch a YouTube video showing the stability of the output of the 123 distributor compared to a Lucas dizzy with points and Pertronix.